Review: Apple's Magic Trackpad 2 and Magic Mouse 2 open new doors for Mac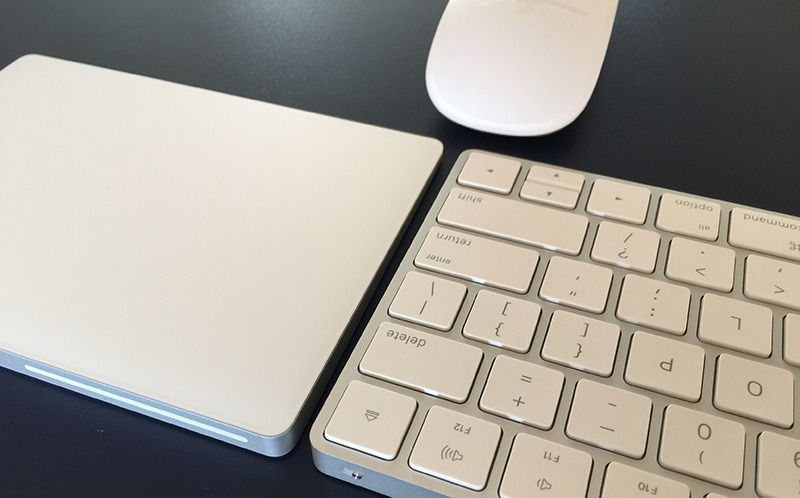 With the introduction of Magic Trackpad 2 and Magic Mouse 2, Apple offers two solid upgrades to its peripheral accessory lineup, but in our estimation only one is worthy of the "magic" moniker.
Magic Trackpad 2
The mouse has for decades been used as a complementary means of data input to the computer, but trackpads with multitouch support have quickly gained popularity, in no small part thanks to Apple's MacBook and iOS device lineups. Apple capitalized on that momentum and in 2010 introduced the Magic Trackpad, bringing familiar user interface gesture control to desktop owners' fingertips.
The Magic Trackpad 2's input surface is large at 6.3 inches-by-4.52 inches and more akin to a MacBook's trackpad, being wider and shorter than its predecessor. Compared to the first-gen Magic Trackpad, this year's model boasts 29 percent more surface area. I found the long distance from corner to corner very handy when drawing or finger writing.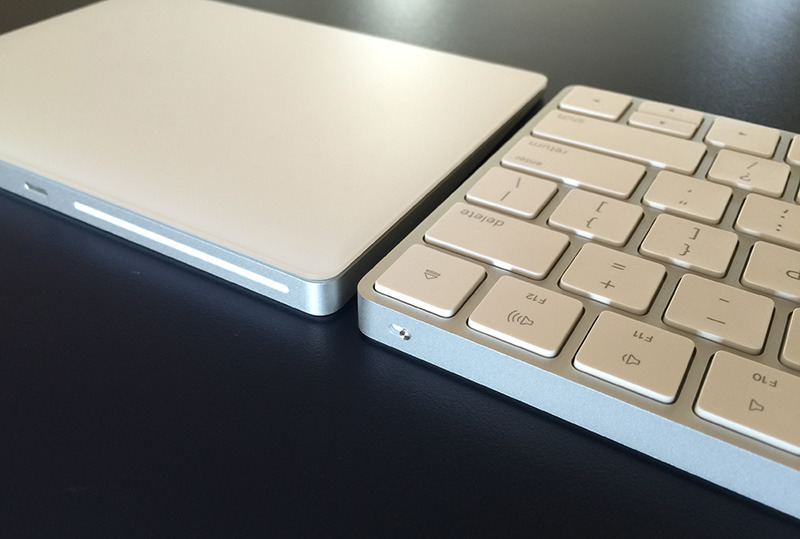 Shaped like a wedge, Trackpad 2's rear height comes in at 0.43 inches, identical to the Apple's new Magic Keyboard. In fact, the two device both weigh in at 0.51 pounds. As with all Apple trackpads, the snow white, glass-covered surface on Trackpad 2 is smooth and comfortable with consistent edge-to-edge friction. I really enjoyed the feel and its size made it easy to "find" without taking my eyes off the screen.
Powering the unit is an internal battery that can be recharged via a Lightning port. On the rear of the aluminum wedge, next to the Lightning receptacle, is a a physical power switch and a Bluetooth antenna cutout filled in with strip of radio-transparent material. Four rubber feet provide a solid foundation for all but the most vigorous swiping activities.
Trackpad 2's real magic is a Force Touch mechanism hidden beneath the glass and metal exterior. Sensors connected to the glass surface register pressure-sensitive deep press gestures, adding an entirely new layer to OS X El Capitan's GUI. The surface is also static; it doesn't physically move. Apple employs a haptic feedback engine to mimic the usual "click" sensation, a system used in the latest MacBooks.
Plugging a Lightning cable running from your Mac into the trackpad's charging port instantly pairs the device, no configuration needed. A confirmation message pops up onscreen to let users know that their trackpad is ready to use over Bluetooth. If you are not comfortable digging into the settings of your Mac and want things to "just work," these new devices are for you. With Magic Trackpad 2, Apple has truly continued the tradition of building in foolproof device setup procedures.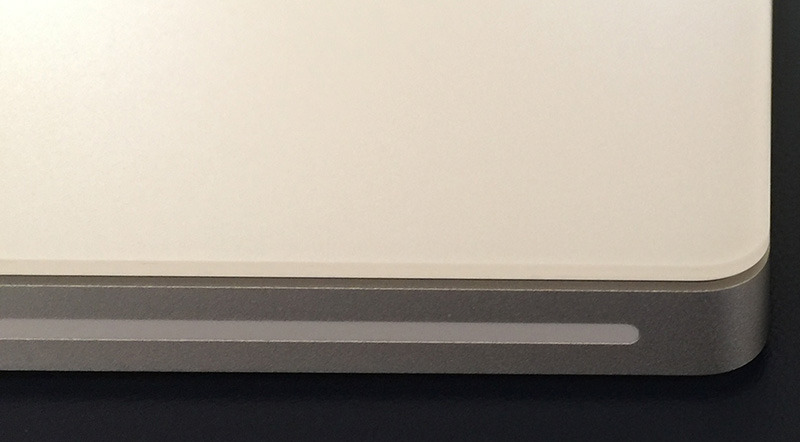 Users can easily adjust settings for click and haptic feedback in Mac's Settings menu. For example, Force Touch gesture input pressure can be adjusted to light, medium and firm, or switched off entirely to make the device function like a traditional trackpad. I am by no means frail, but even the medium setting seemed to be somewhat difficult to trigger. Moving to the light setting made interaction more fluid with much less strain on my hand and wrist, an important consideration for those who work long hours in front of their computer.
On a side note, both trackpad and mouse came almost fully charged. The trackpad was at 95 percent and the mouse at 92 percent when I received them. At these levels out of the box, you should have near one month of use before having to recharge.
I have never been very fond of trackpads, but then Apple introduced Force Touch alongside this year's MacBook hardware refreshes. It's typical Apple to introduce a brand new feature only to leave me wondering how I ever did without it.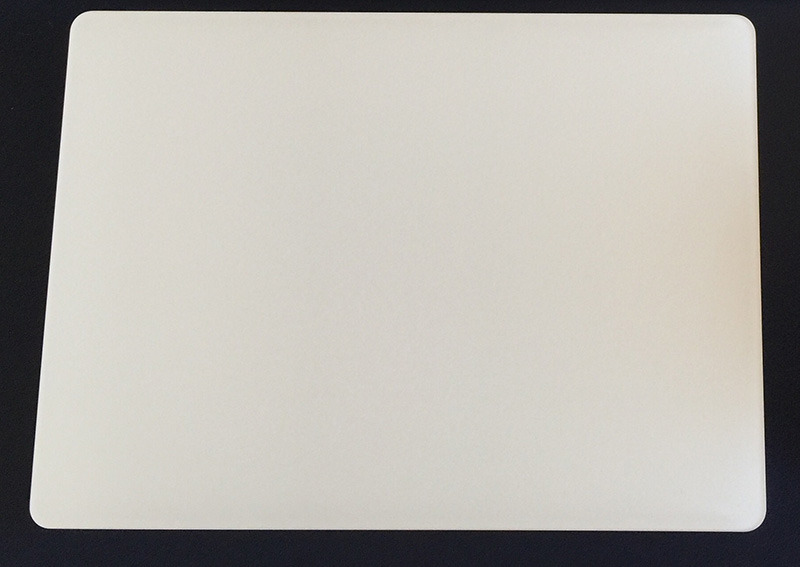 As a refresher, Force Touch is an Apple-developed feature capable of sensing the amount of force applied to a given surface. First introduced with Apple Watch, and more recently deployed as 3D Touch in iPhone 6s, the tech uses embedded sensors to determine varying levels of downward pressure, which in turn triggers specific system UI commands. Basically, it measures the force of your touch, hence Force Touch.
Applying these new rich input and haptic feedback features on Mac almost "magically" makes you feel at one with your computer. Force Touch works well in native apps such as Mail, Safari, and Photos and is supported by some third-party apps. As I used Trackpad 2, it quickly became second nature to press on a link in a website to pop out a preview in a smaller window, or invoke a lookup window that was previously only available via three-finger tap.
While not specifically advertised in Apple's first party app notes, Force Touch on Mac can be used to drop a pin into Maps, draw with pressure sensitivity in Preview markups, rename files in Finder and much more. Those are only a few of the types of actions Force Touch brings to the Mac. Many other actions will be available as third-party vendors program their applications to take advantage of Force Touch.
In apps where it's available, the added functionality granted by Trackpad 2 and Force Touch almost makes OS X feel like an entirely new operating system. When I returned to mouse input after having used Trackpad 2 for only a short time, I often found myself trying to Force Touch links.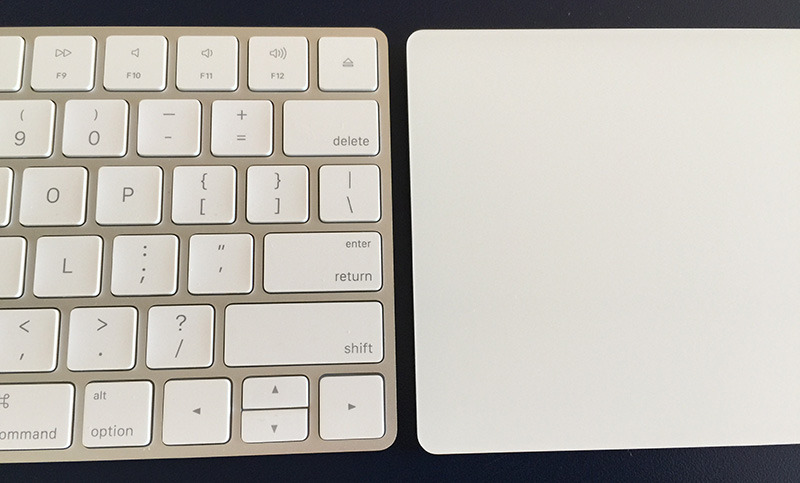 Conclusion
At $129 the Magic Trackpad 2 is the most expensive of Apple's new Mac accessories, but it is also the only product that adds new functionality to your Mac. If you have grown accustomed to Force Touch on your Macbook, or 3D Touch on iPhone, then the Magic Trackpad 2 is a natural extension to the desktop. As is expected from all Apple products, build quality is superb and should offer many years of trouble free use.
With Force Touch still in its infancy, the available feature set is simply not compelling enough to make us discard our tried-and-true mouse. As Apple and third parties build out app support, however, Trackpad 2 or its successor will likely become a "must have" accessory.
Score: 4 out of 5
Solid build quality
Very precise and response surface
Approximately one month per charge
Quite pricey at $129
Size could be problem for smaller desks
Limited app support for Force Touch
Where to buy
The Magic Trackpad2 is available now for $129 from Amazon.com, AppleInsider partner B&H Photo and Apple's own stores. Alternatively, MacMall is offering Trackpad 2 for $126.99 through its website.
Magic Mouse 2
Apple's Magic Mouse 2 is least changed of Apple's new accessories. This is not necessarily a bad thing, however, as its design and function have become very familiar for many users.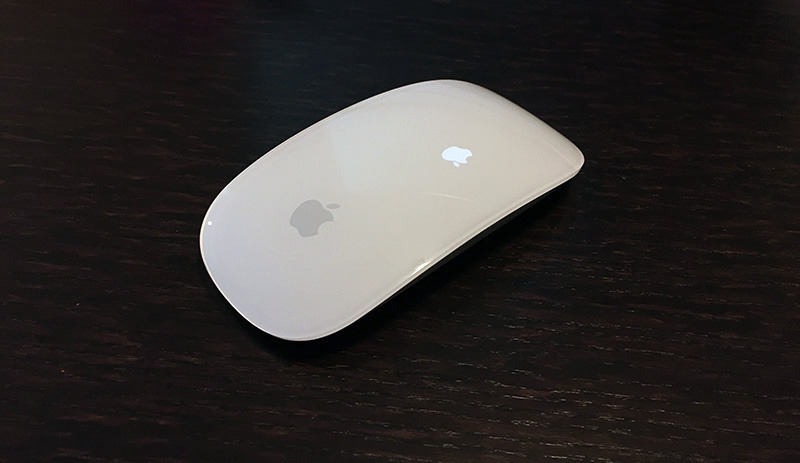 The Magic Mouse 2 includes a rechargeable battery and an updated set of feet to offset the added weight. The multi-touch cover surface still lets users swipe and scroll with ease and there are less moving parts internally compared to the original Magic Mouse, making it less prone to wear and tear.
Like the Magic Trackpad 2, Mouse 2 pairs instantly when connected to your Mac via Lightning cable. The mouse I tested came with a 92 percent charge which should offer many weeks of use.
Magic Mouse 2 is arguably the least-improved of Apple's new Mac accessories, but I found it the most comfortable. After years of using Apple mouse products, I didn't have to leave my comfort zone to learn new actions and movements that weren't already cemented in muscle memory.
Unlike the new keyboard and trackpad, you cannot continue to use Mouse 2 while it's charging since Jony Ive chose to position the Lightning port on the underside of the device. The design decision was no doubt made with an eye on aesthetics, but it nevertheless looks odd plugged in. In practice, I don't expect this to be an issue as a quick charge provides enough juice for 8 to 9 hours of normal use (full charges complete in 2 hours).
The mouse, though short on substantial upgrades, feels wonderful in the hand. It glides smoothly on its newly designed rails and even the sound of the clicks has a quality to it that you come to expect from Apple products.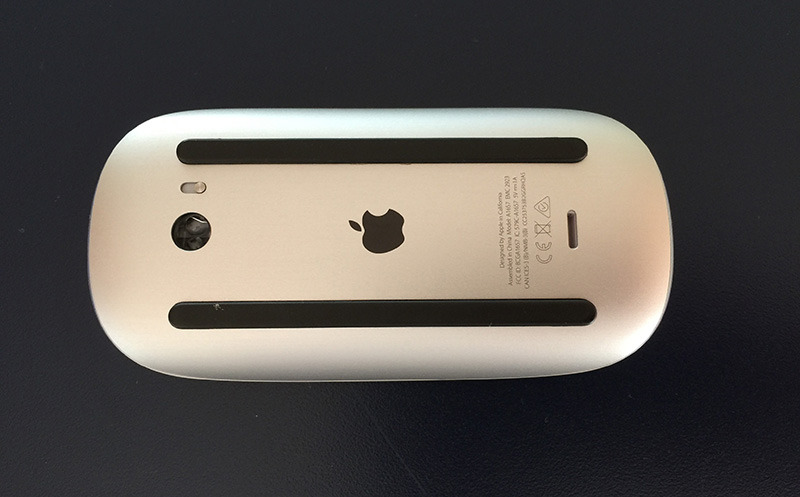 Conclusion
The Magic Mouse 2 is definitely not a must have purchase. It's a solid performer and might be something to consider if you need a new mouse, but the device adds very little beyond an internal rechargeable battery.
Perhaps if Apple included Force Touch or a haptic feedback system ala Magic Trackpad 2, it would be worth the considerably high price.
Score 3 out of 5
No learning curve
Glides very smoothly
One month between charges
The charging cable plugs into the bottom preventing use while charging.
Somewhat pricey at $79.
Offers very little over current Magic Mouse
Where to buy
The Magic Mouse 2 is included with all current iMacs, while standalone units can be purchased for $79 from Amazon, B&H Photo, MacMall and Apple. Live pricing information is available below or every day in or Price Guides.