First reviews say 4th-gen Apple TV is evolutionary step forward, has untapped potential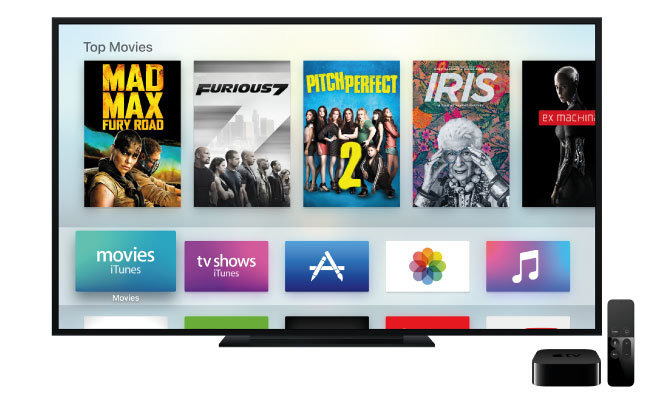 The early reviews are in for Apple's fourth-generation Apple TV, slated to ship to preorder customers on Friday, and the general consensus is that, while not a revolutionary product, the set-top streamer is a step in the right direction.
Apple is touting Apple TV as the "future of TV," but reviewers are not quite on board with that statement. While a nicely designed piece of hardware with a slick user interface, the small black box is lacking a standout feature that would put it beyond competitors. It also comes at a disadvantage, at least for some, without offering support for 4K streaming.
Re/code's Walt Mossberg found Apple TV's dedicated App Store and Siri-powered voice functions superior to offerings from Roku and Amazon, but bemoaned a lack of compatibility with key apps. For example, Siri search is not tied in with the tvOS App Store, meaning users have to type in on a "maddening" on-screen keyboard.
"I don't know when, if ever, Apple will reinvent TV. But this isn't the moment. I can say that, if I were buying a streaming box right now, this is the one I'd buy, if only for the promise of lots of apps," Mossberg said.
Writing for The Verge, Nilay Patel also had qualms about Siri's inability to search for apps, adding that Apple's virtual assistant lacks the personality found on other devices like iPhone. Siri can accept commands, like opening apps and looking up sports scores, but it doesn't offer any feedback or trademark quips.
Both Patel and Mossberg agree that signing into channels and app services is particularly painful. Apple TV does not offer a single sign-in function or account restore feature for existing owners, which means users have to input their information on an app-to-app basis using the onscreen keyboard.
"Not having a single sign-on for apps that require a cable subscription is exactly the sort of piddly nonsense that needs to get solved before the future of TV actually gets here," Patel writes. "And solving exactly this sort of piddly nonsense for people again and again is what turned Apple into the richest company in the world."
Opinion is split over the new Siri Remote, which features a glass trackpad portion and only a few physical buttons. Geoffrey A. Fowler from The Wall Street Journal says the remote is Apple TV's greatest asset and is as intuitive as using an iPhone. Bluetooth connectivity is another plus, though Fowler noted his setup suffered interference from nearby devices.
BuzzFeed's John Paczkowski points to Apple TV's App Store as having great potential, while touting Siri's ability to process natural language commands. He also praises ease of use and Apple's usual attention to detail.
But here's why Apple executives keep calling the Apple TV "the future of TV": it can run apps far beyond TV and movies. Apple wants us to think of the Apple TV as another phone or tablet, capable of running all the same kinds of apps.
Gaming on Apple TV is off to a promising start. The remote control includes motion sensors so it can double as a game controller. The game Beat Sports relied on the remote's motion sensors — swinging the remote makes the on-screen character whack a ball with a bat; the object of the game is to swing and whack the ball to the beat of the music.
To get the most out of Apple TV you need to be invested already in the Apple universe, with games, TV shows and movies you've purchased from iTunes and the App Store. That's a shame since it offers the best streaming experience today, and more potential tomorrow once app developers go to town finding ways to exploit the big screen and that slick remote. But if the previous Apple TV was any indication, this one's only going to grow more appealing.
It has the potential to turn your TV into one giant iPad: Search for homes on Zillow, book your vacation on Airbnb, use the remote as a controller to play the various video games that are starting to populate the store.
Apple started accepting preorders for the fourth-generation Apple TV on Monday and the first units are scheduled to ship out on Friday.