Amazon yanks Apple TV and Chromecast from digital shelves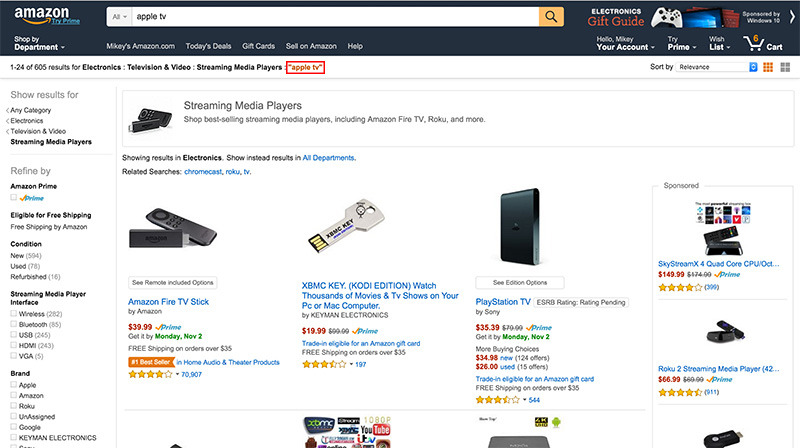 Making good on promises to halt sales of set-top streaming devices competing with its own Fire TV lineup, Amazon on Thursday removed all Apple TV and Google Chromecast products from its online store.
As seen in the screenshot above, Amazon.com is no longer selling Apple TV or other streaming devices like Chromecast in a bid to boost juice Prime Video subscriptions and sales of first-party Fire TV and Fire TV Stick units. The company first announced plans to discontinue competing products earlier this month, saying the decision was made in an effort to prevent "customer confusion."
"It's important that the streaming media players we sell interact well with Prime Video in order to avoid customer confusion," Amazon said at the time, noting its Prime Video service has become an important facet of the members-only service.
Alongside Amazon's own Fire TV and Fire TV Stick, the online retailer will continue sales of certain devices that support Prime Video, including Roku's hardware and consoles like Xbox and PlayStation. The company has not specified why a branded Amazon app or channel was never created for Apple TV, though it is assumed Amazon was not keen on paying Apple's mandated 30 percent cut of content sales.
The move also suggests Amazon has no intention of developing an app to be distributed on the new tvOS App Store, supported by Apple's fourth-generation Apple TV. Early reviews lauded the new set-top box's powerful hardware and slick user interface, but shaved off a few points for lack of unique content.