The pen is mightier: Samsung modifies Galaxy Note 5 packaging to warn about stuck stylus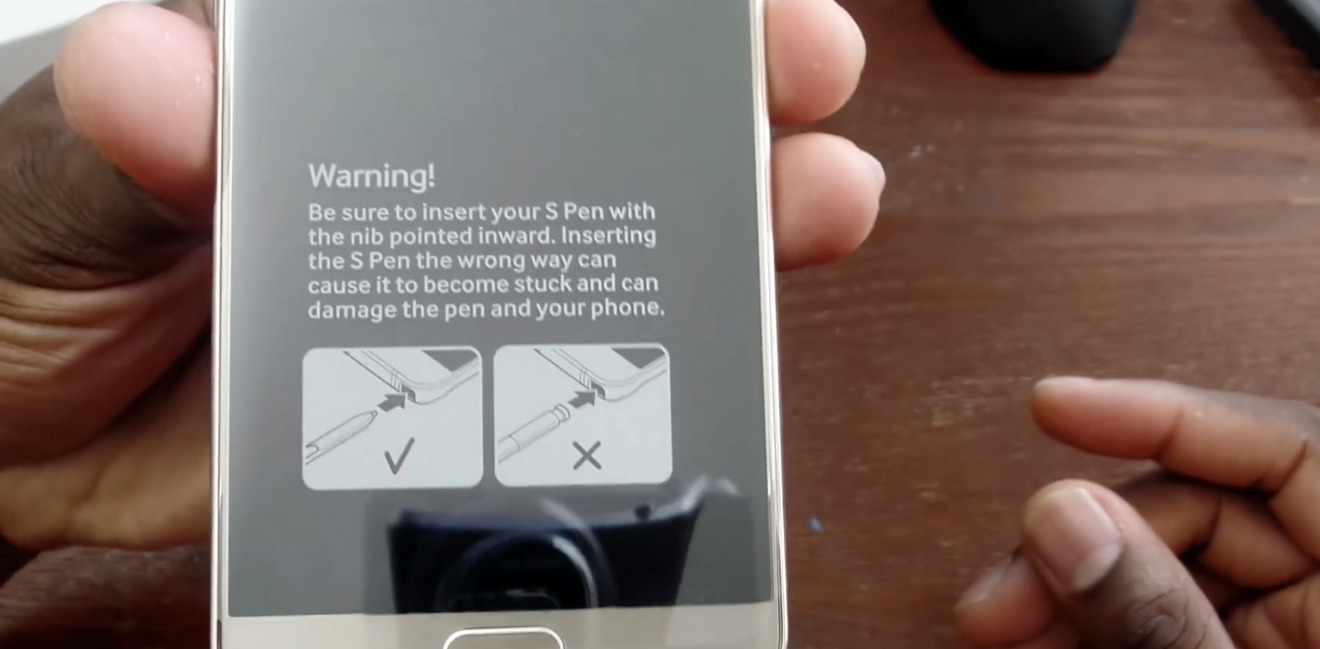 Rather than fix a flaw that can permanently damage its latest flagship phablet, Samsung has instead opted to revise the packaging for the Galaxy Note 5, warning users not to insert the device's S Pen back into the handset in the wrong direction.
When the Galaxy Note 5 launched in August, some users quickly realized that the stylus included with the handset could be easily and mistakenly inserted upside down into the phone. Doing so caused a potentially serious problem — Â a locking mechanism within the Note 5 could clamp down on the wrong end of the stylus, resulting in it being stuck and sticking out of the top of the device.
That issue has not been fixed, but Samsung has opted to ship new units with a warning sticker telling users to insert the S Pen with its "nib" pointed inward. The warning was highlighted in an unboxing video by J. Williams, first spotlighted by SamMobile.
"Inserting the S Pen the wrong way can cause it to become stuck and can damage the pen and your phone," the label reads, along with corresponding pictures showing the right and wrong way to reinsert the stylus.
Getting the S Pen stuck in the Galaxy Note 5 was apparently so easy to do that TWiT broadcaster Leo Laporte accidentally did it live on the air, as can be seen in the video below:
The S Pen stylus is one of the defining features of Samsung's jumbo-sized Note phablet lineup. The new Note 5, boasting a 5.7-inch display, was announced by Samsung in August ahead of Apple's iPhone 6s and iPhone 6s Plus unveiling in September.
Apple, of course, has been hit with its own slew of "controversies" over the years, including antenna reception issues with the iPhone 4 and the ability to bend the iPhone 6 series with sufficient pressure. Both of those supposed issues were addressed with subsequent annual updates in the form of the iPhone 4s and iPhone 6s.
Those who may be affected by a stuck S Pen with the Galaxy Note 5 shouldn't try to forcibly remove the stylus from their handset or they will risk breaking it. Instead, users have said the issue can be fixed by cutting a strip of paper about six inches long, wrapping it around the piece of the S Pen protruding from the phone, and sliding it into the holding bay to allow the stylus to be safely removed.