First look: Apple Smart Keyboard for iPad Pro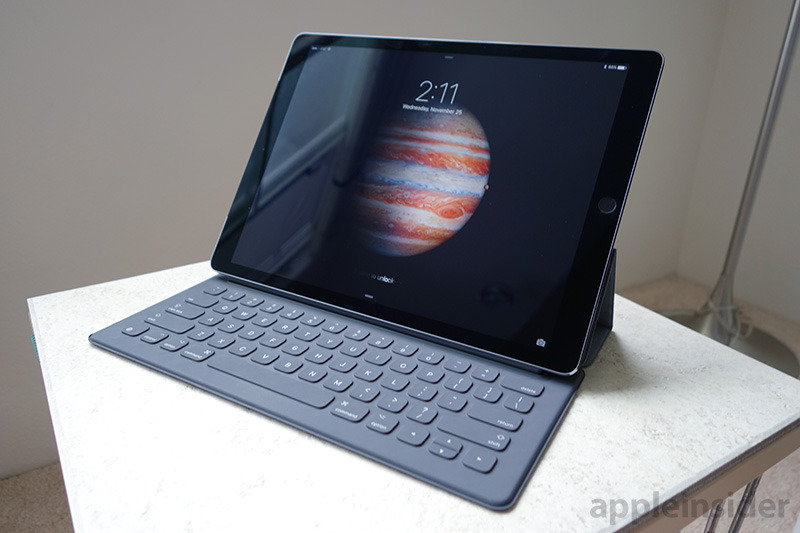 As Apple Pencil stock trickles into brick-and-mortar Apple Stores, the iPad Pro's other first-party accessory, the Smart Keyboard, has become somewhat of a hot commodity. AppleInsider was able to snag a copy of the hard-to-get device to offer this first look.
Like all Apple products, Smart Keyboard is a well-designed piece of kit, uses top-shelf materials and comes built to last. For many potential buyers, however, there is concern that a tablet peripheral, even one made by Apple, can't compare to the stellar hardware keyboards found on MacBook. In our initial testing, we found Smart Keyboard more than serviceable for heavy word processing tasks, though users looking for desktop or laptop class key depth might want to look elsewhere.
Apple's design is spartan, as usual, but perhaps most interesting is the keyboard material itself. As reported earlier this week, Apple's woven nylon key cover serves many purposes. Aside from its sleek look, the cloth is textured to prevent slippage, is sealed to protect against liquid spills and provides a rebound effect that replaces the need for physical springs. This last consideration is important to Apple's design, as it makes the keyboard less bulky and incredibly quiet, while maintaining a modicum of "click."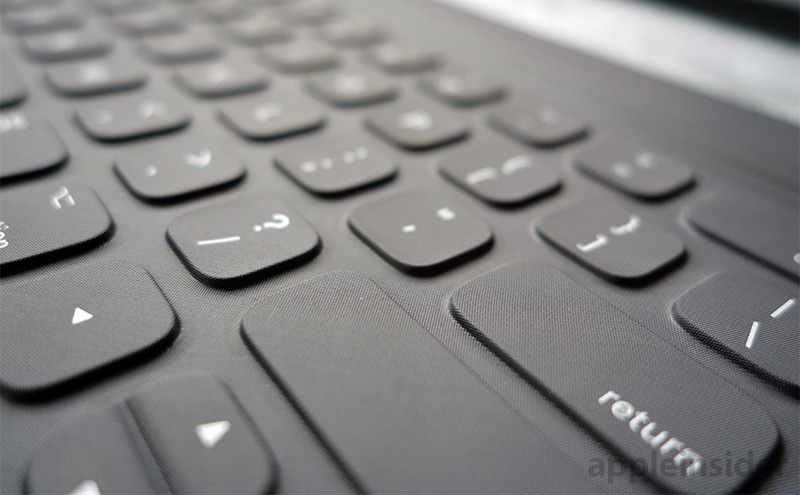 Proper key feel is traditionally a feature iPad-connected keyboards concede for ultimate thinness, but Apple has taken a different approach. Inside Smart Keyboard are dome switches pioneered with the 12-inch MacBook, one for each key. Unlike the MacBook, the iPad Pro version does not include a butterfly mechanism, relying instead on the nylon cover material and the dome switch itself for spring-back.
To further obviate the need for actual springs, Apple cleverly built in ducts to relieve internal air pressure when a key is pressed, reducing any perceived damping effect to zero. Taken together with the dome switch, the air ducts and springy nylon canopy give the keyboard a reasonably "clicky" feel, much more so than competing products.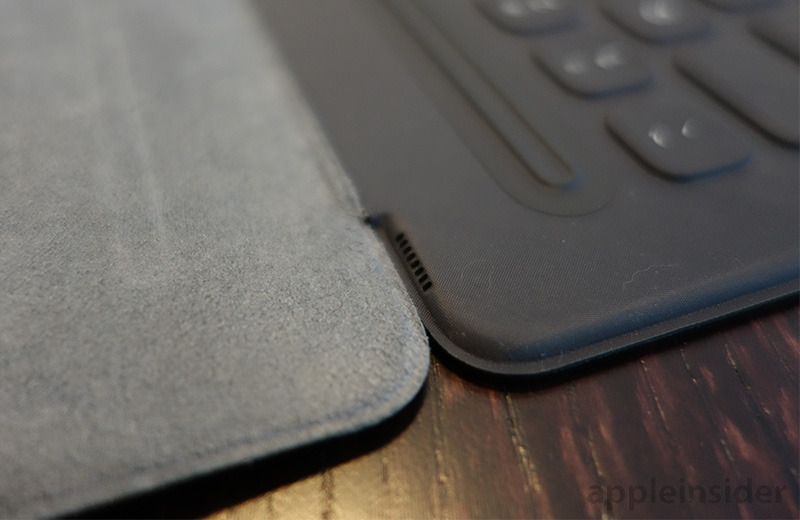 Still, Apple designed Smart Keyboard to be thin, and the truncated key depth results in an expectedly short key throw.
For users jumping to a fold-up keyboard for the first time, Smart Keyboard does take some getting used to, but those familiar with low-profile units will likely be pleasantly surprised at what Apple was able to accomplish. In our case, it took about five minutes to acclimate to Smart Keyboard's tactile sensation and we are now typing at speed.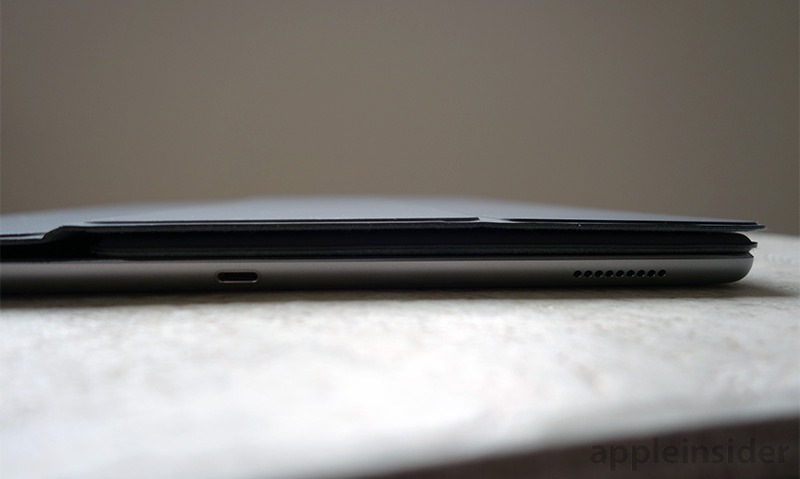 Because Apple basically integrated a keyboard into a Smart Cover, unfolding the device is straightforward. Unlike third-party products, Apple's tri-fold design means Smart Keyboard cannot be adjusted beyond its set viewing angle.
The tilt is fine for use on a desk and even for impromptu lap typing, but anything beyond that and things get uncomfortable. For example, trying to type while sitting or lying on the ground is a difficult proposition. The lack of flexibility is unfortunate considering one of the iPad's strengths is its ability to be used in unconventional locations like the couch or in bed.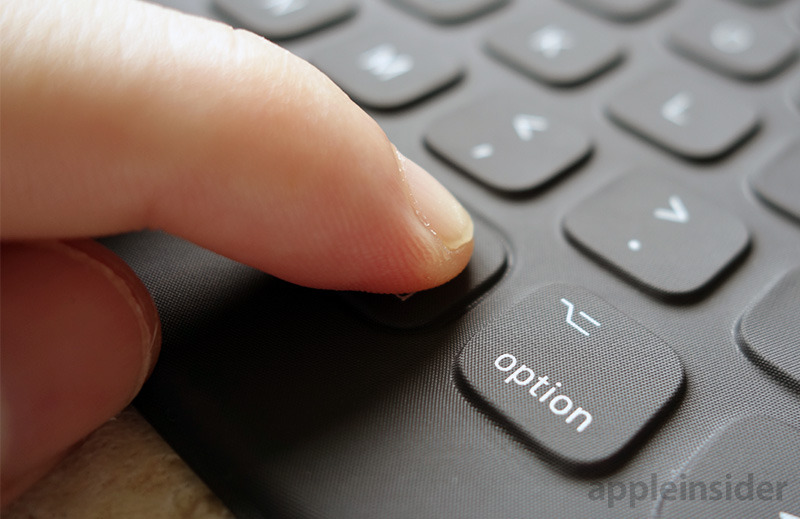 As can be expected, iOS app support is robust, especially with Apple's first-party software like Notes and Pages. The keyboard has many of the same capabilities one would expect from a full-size Mac, including cursor-based text selection using the shift key and arrow buttons, document browsing considerations and iOS system shortcuts. Since some menu shortcuts are contextual, users can invoke a command overlay on an app-by-app basis by holding down Command, Option and Control keys.
When Smart Keyboard is connected, iOS automatically ditches the soft keyboard, dropping the top row of user selectable commands down to the bottom of the screen. The resulting physical/digital interface is very handy, putting onscreen buttons like undo, redo, paste and — importantly — autocorrect choices within fingers' reach.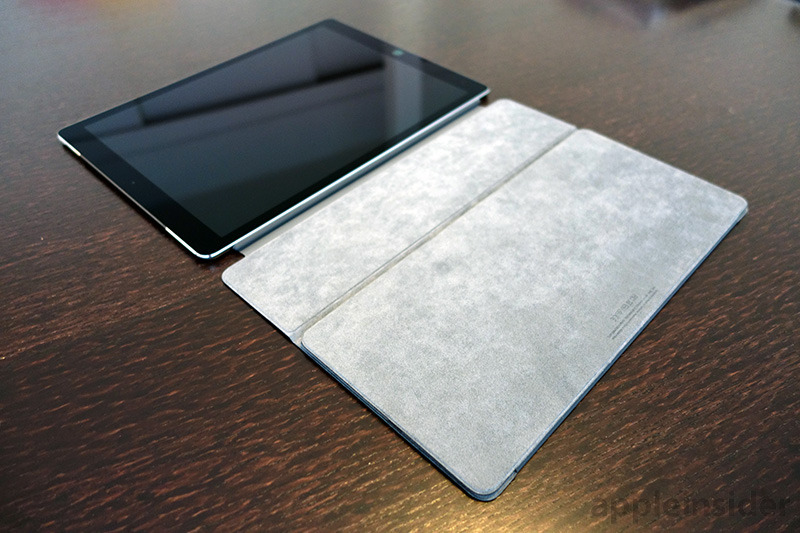 Being an iPad, it goes without saying that users have unhindered access to multitouch screen controls. In a word processing scenario, for example, users can relocate the cursor or select chunks of text with a tap and hold gesture. The interface can be a bit ungainly when dealing with long, multipage documents.
Pressure-sensitive technology like Apple's 3D Touch on iPhone 6s, which lets users select words, sentences and paragraphs with force-sensitive screen gestures, would have been a great addition here. Perhaps we'll see that on iPad Pro 2.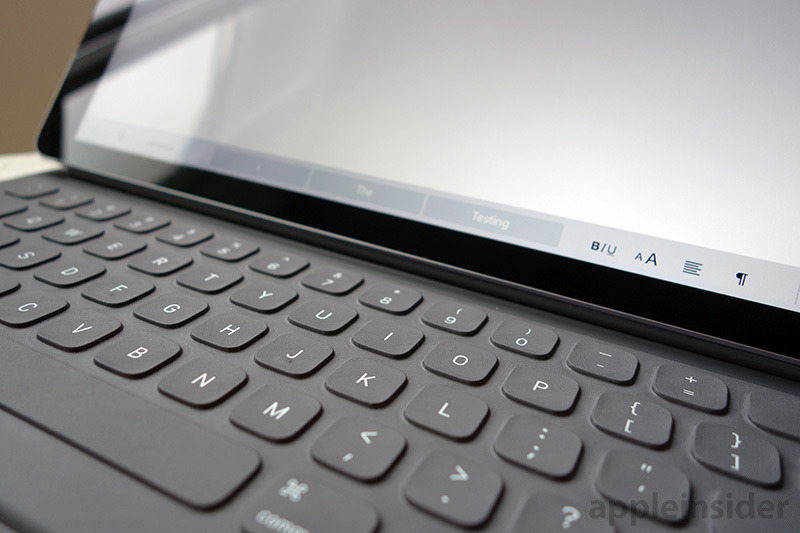 For road warriors looking to use iPad Pro as a word processor, or for iPad owners looking for an alternative to the iOS soft keyboard, Apple's Smart Keyboard presents a compelling option. The tactile experience is impressive for such a thin device and included support for iOS 9 shortcuts makes it feel like a true extension of Apple's mobile operating system.
AppleInsider will be taking a more comprehensive look at Smart Keyboard, its features and software compatibility in an upcoming review.