Apple to open its 28th store in China on Dec. 12 in Nanning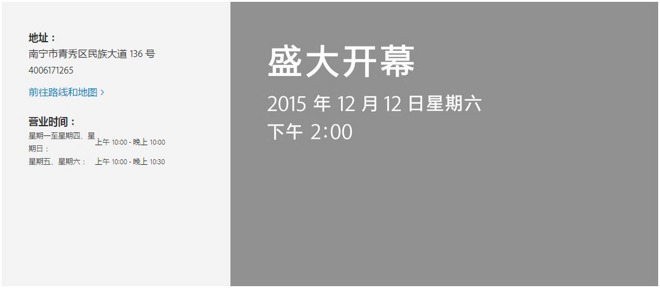 AppleInsider may earn an affiliate commission on purchases made through links on our site.
Apple is set to launch a new Chinese Apple Store on Saturday, Dec. 12 in the southern city of Nanning, situated in Guangxi province.
The shop will be based in the MixC mall at 136 Minzu Avenue. As with Apple outlets in many other parts of the globe, the Nanning location will be surrounded by other luxury retailers, like Prada and Versace.
Regular hours will run from 10 a.m. to 10 p.m., but an extra 30 minutes later on Fridays and Saturdays.
The store is Apple's 28th in the country, and represents the tail end of an aggressive 2015 opening schedule — new outlets have also appeared in cities like Beijing, Chengdu, Hangzhou, Hong Kong, and Nanjing.
China is Apple's most important market after the U.S., and may soon eclipse it in terms of revenue. To that end Apple is hoping to have 40 stores in the country by the middle of next year.