Inside iOS 9.3: 'Auto Switch' lets you use multiple Apple Watches with one iPhone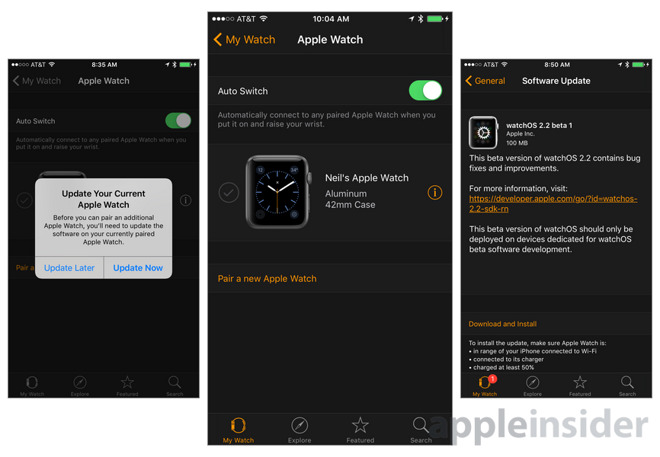 Upon installing iOS 9.3 and watchOS 2.2, users can take advantage of a new feature Apple has dubbed "Auto Switch," allowing users to own multiple styles of Apple Watch and swap them out with ease.
The new Auto Switch feature can be enabled in the Apple Watch app in the first developer beta of iOS 9.3. It requires that all connected Apple Watches be running the first beta of watchOS 2.2.
Once enabled, Auto Switch will automatically connect to any paired Apple Watch, once the user puts it on and raises their wrist.
Within the Apple Watch app, users can see all of the watches that have been connected to their iPhone. The currently active one will be marked with a green check to the left side.
Apple also includes an image of the user's Apple Watch, complete with their style, color, and even the watch face and complications they have enabled. This will make it easier for users to distinguish between their connected watches.
The ability to pair multiple watches with a single iPhone will allow Apple Watch owners to purchase multiple styles and swap them out as needed. For example, fashion-conscious consumers might own different styles and colors to fit their current attire or activity.
Auto Switch should also make it easier for developers to test their apps on multiple devices, such as comparing the 38- and 42-millimeter screen sizes, or using both first- and second-generation Apple Watches, if and when Apple updates its wearable device.