VLC comes to Apple TV with wide format support, 'Remote Playback' feature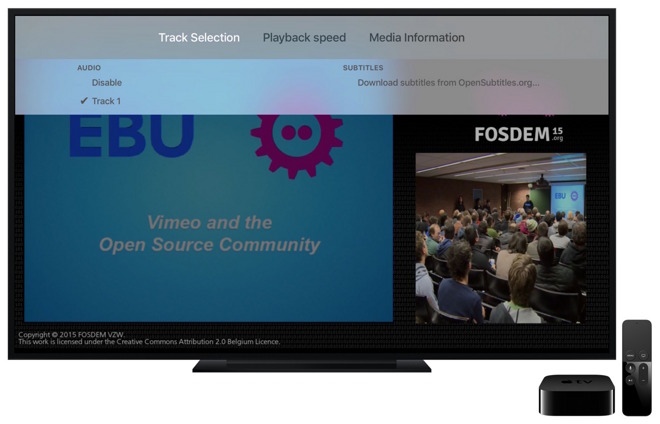 AppleInsider may earn an affiliate commission on purchases made through links on our site.
VideoLAN on Tuesday released a tvOS version of VLC, making the video playback app native to the Apple TV for the first time.
As on desktop and mobile devices, the new app lets users play formats that aren't natively supported by Apple. It also enables things like chapter selection, and choosing between multiple audio and subtitle tracks where available. Subtitles can be rendered in text or bitmap format, and downloaded on the fly if they're not present locally.
Video files can be accessed from several sources, such as DLNA/UPnP, SMB, FTP, and even Plex. Where needed login credentials can be entered and saved, syncing with VLC for iOS. Credentials already saved in iOS can be synced in the opposite direction.
One of the most unique features in the app is Remote Playback, which lets people employ another app or a Web browser to push media. The Web interface involves dragging and dropping files or stream URLs onto a special page, where users can also do basic playback control.
Another distinct option is variable playback speed, which VideoLAN says is missing from any other Apple TV playback apps.
Although not its main purpose, the app also supports Web radio and music, with artist and album art sourced from Hatchet.
VLC for Apple TV is a free download, accessible through the device's App Store. VideoLAN is already preparing new features, such as integration with cloud storage services like OneDrive and Dropbox.