Netflix boasts 37% share of Internet traffic in North America, compared with 3% for Apple's iTunes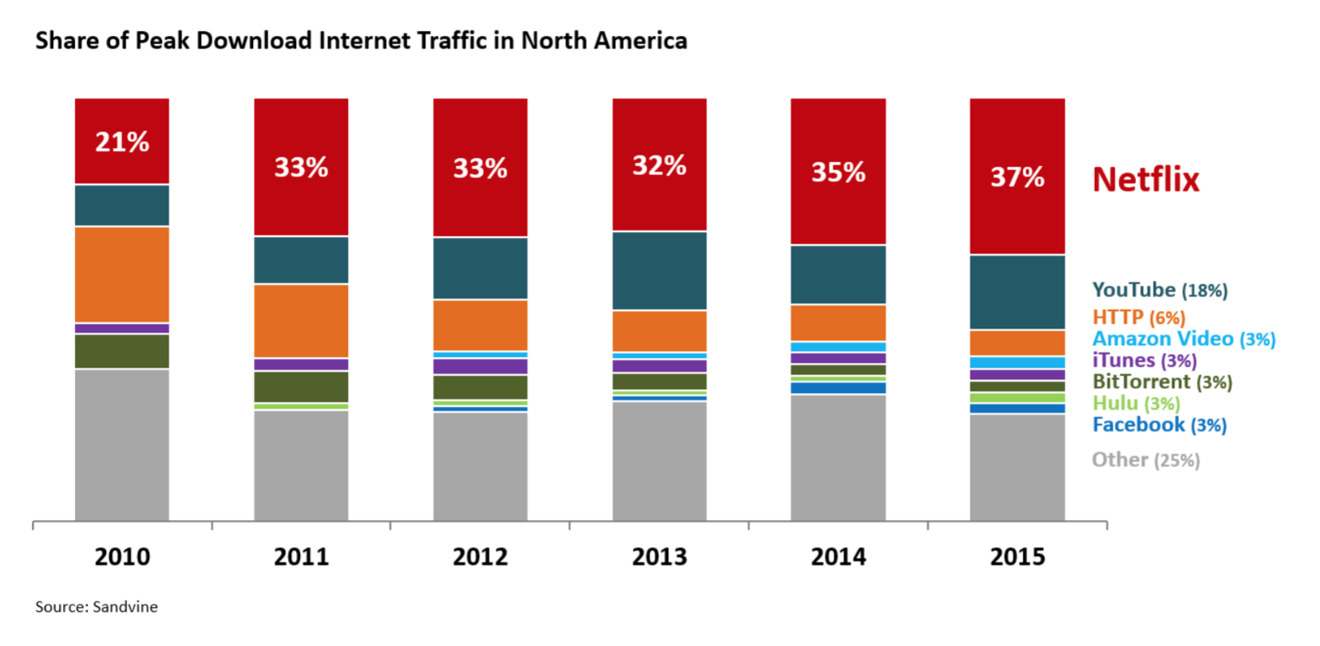 Netflix this week revealed that in 2015, its streaming video service accounted for 37 percent of peak download Internet traffic in North America, more than doubling YouTube, and coming well ahead of Apple's iTunes.
The data from Sandvine, revealed in Netflix's quarterly earnings report, shows that Netflix's share of North American traffic data has continued to grow, up from 35 percent of peak downloads in 2014.
Apple's iTunes accounted for 3 percent of peak download traffic in 2015, finishing in a multi-way tie for fourth place with Amazon Video, BitTorrent, Hulu, and Facebook.
"Internet TV will likely have multiple winners as the various services are not direct substitutes for each other given differing sets of content," Netflix said in their earnings report. "A closer look at the Sandvine data shows that the entire Over‐the‐Top category is growing as consumers increasingly embrace Internet TV and on demand viewing and, even better, this growth is coming at the expense of piracy."
The success of Internet streaming services, particularly by Netflix, comes as Apple is heavily rumored to be pursuing its own over-the-top Internet television subscription service. Just this week, the president of ESPN revealed that his company is in continuous talks with Apple, though the company has been "frustrated" by roadblocks with content owners.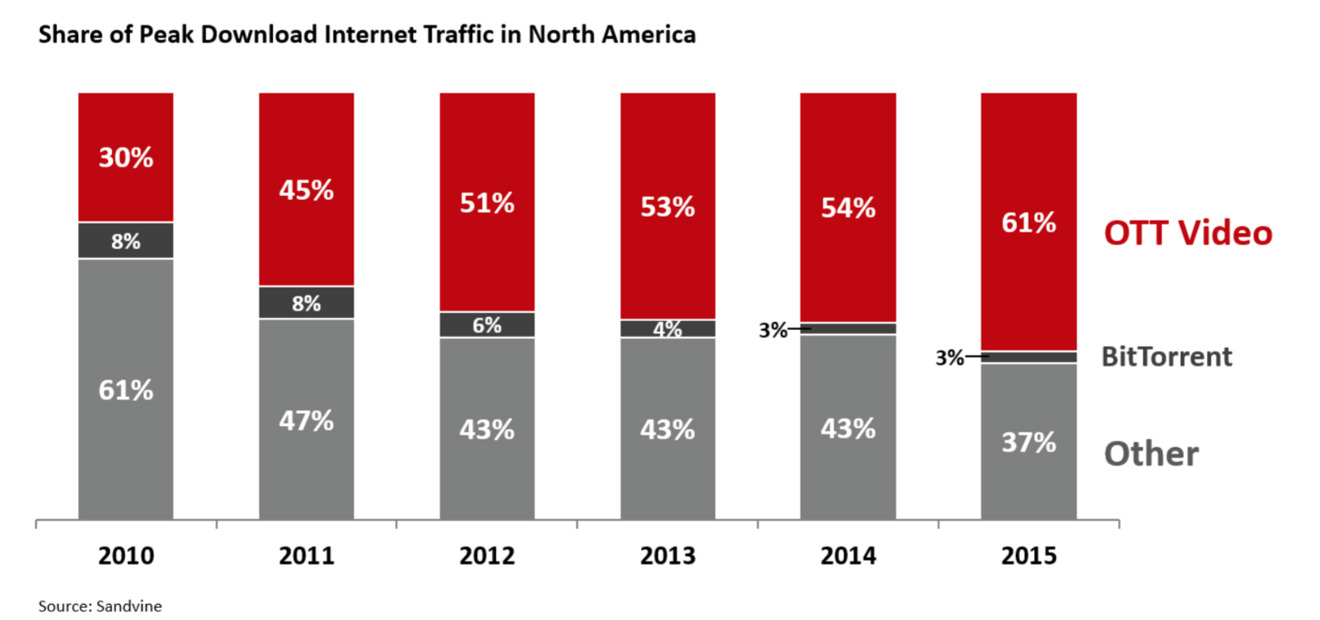 Just last month, it was suggested that Apple had put its plans on hold for an Internet TV service, as content owners were allegedly dissatisfied with its proposal for a $30-per-month "skinny" channel bundle. Apple was said to be interested in a base package with about a dozen channels, but content owners didn't want their deeper cable networks to be left out of the mix.
For now, Apple offers a streaming music subscription service, but does not have an equivalent video component. Instead, iTunes video content is available to purchase or rent on a title-by-title basis.
The newly launched fourth-generation Apple TV does offer a plethora of third-party content — Â including Netflix, YouTube and Hulu — via the newly launched tvOS App Store.
Netflix revealed to investors this week that it ended the previous quarter with 74.76 million members, gaining 17 million net additions in calendar 2015. The company crossed the 75-million-member mark just a few hours after the quarter closed on Jan. 1.
In the fourth quarter alone, Netflix added a record 5.59 million members, bolstered by original programs such as "Marvel's Jessica Jones" and "Narcos." The company expects to grow its subscriber base even more, by 6.1 million users, in the current quarter, thanks to rapid international expansion.