Apple seeds second iOS 9.3 beta with Night Shift button in Control Center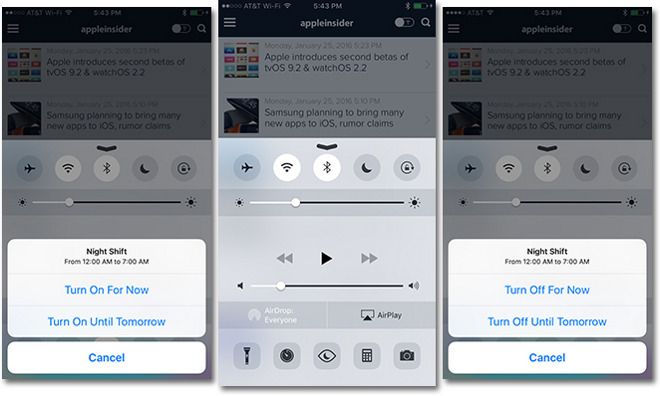 Following the public release of tvOS 9.1.1, Apple on Monday pushed out a second beta version of iOS 9.3 with new features including a Night Shift control button in Control Center.
The latest build 13E5191d includes a number of enhancements over the first iOS 9.3 beta released earlier this month, the most prominent being an easily accessible Night Shift button located in Control Center.
On iPhone 6s handsets, the new Night Shift control appears as an icon emblazoned with a crescent moon in an eye. Last week, Apple posted a picture of an iPad implementation to its Canadian iOS 9.3 Preview website.
Night Shift is a first-of-its-kind tool that lets users access and control display temperature on compatible iPhones and iPads, currently limited to 64-bit hardware with the most recent beta versions. Using device clock and geolocation assets to calculate local sunset, the feature automatically shifts display colors toward the warmer end of the spectrum for optimal night time viewing.
Today's update comes after the first developer beta seed two weeks ago, and a subsequent public beta released a few days later.
Developers can download the latest iOS 9.3 beta version from Apple's developer portal or as an over-the-air update with appropriate provisioning.