Apple recalls some AC adapters, world travel kits in parts of South America, Europe, Asia, and Oceania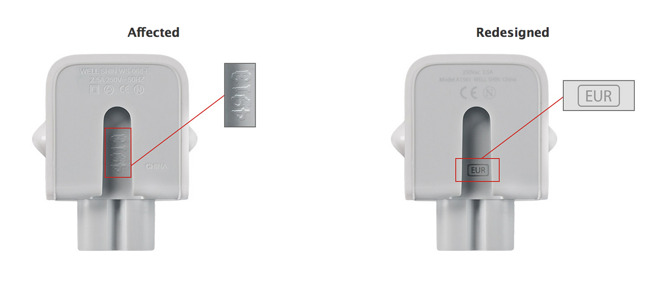 AppleInsider may earn an affiliate commission on purchases made through links on our site.
Apple on Thursday issued a recall for two-pronged AC wall plug adapters designed for Argentina, Australia, Brazil, Continental Europe, New Zealand and South Korea over a potential risk for electric shock.
Apple said that it was aware of 12 incidents around the world in which a two-pronged AC wall plug adapter broke and resulted in an electrical shock when the user touched it. The recall includes many two-pronged wall plugs shipped with Macs and iOS devices between 2003 and 2015.
To determine if your wall plug is affected by the recall, check the inside slot where it attaches to the main Apple power adapter. Affected wall plugs will have either four characters, five characters, or no characters printed inside the slot.
This is Apple's first recall since August 2015, when it recalled a number of third-generation Apple TV units over a defective part.