Apple Music and Sonos launch collaborative ad campaign touting benefits of music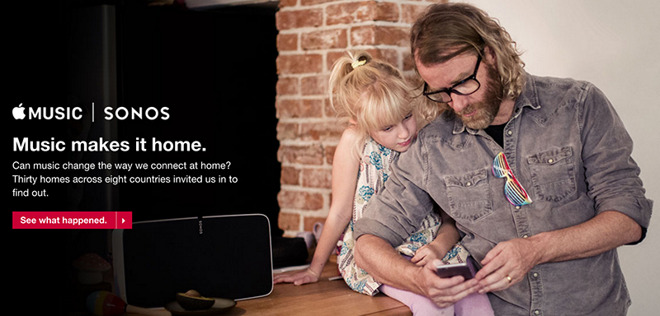 AppleInsider may earn an affiliate commission on purchases made through links on our site.
In conjunction with Apple Music's introduction to the Sonos connected speaker platform, the two companies teamed up to create a comprehensive ad campaign highlighting the scientific benefits of listening to music out loud.
The marketing effort — dubbed "Music Makes it Home" — draws on statistics from a wide-ranging, multi-country Sonos study of 30,000 families that found positive correlations in listening to music and overall quality of life. As UK publication Marketing reports, the survey discovered music benefits sexual activity, relationship satisfaction, mood, happiness and other metrics.
To present the data in easily digestible TV spots and social media posts, the companies invited 30 families to take part in a social experiment that restricted each of the 109 participants from listening to music in the house for one week. After the prescribed deprivation period, music was reintroduced courtesy of Apple Music playing on a wireless Sonos system. Along with families in eight countries, celebrities St Vincent, Run the Jewels' Killer Mike and The National's Matt Berninger also took part in the study.
Experiment data was logged using a variety of devices including Apple Watch (alongside an iPhone 6s if the user did not own an iPhone 5 or higher), which was provided to the measure heart rate, motion and activity of each participant. Apple iBeacons and a Nest camera were installed to track in-house movement. In addition, Sonos monitored installed music systems to gather data on tracks played and at what volume.
A granular breakdown of music streaming data, as well as pictures, gifs and other content generated as part of the in-home study is available for viewing on a dedicated Sonos Tumblr page.
The collaborative campaign marks the starting point of a new partnership solidified earlier today when Apple Music became an official Sonos streaming option. Sonos support for Apple Music has been a long time coming, and some eager customers have been waiting for integration since Apple's streaming service launched last June. Sonos officially announced plans to partner with Apple Music in November before initiating a beta test program one month later.
Both companies have something to gain from the partnership. Apple gets access to an installed Sonos customer base estimated at around five million households, while Sonos gains broad exposure to iTunes users. Sonos marketing chief Joy Howard told Marketing as much in an interview, saying both companies bring value to the table.
"How do you value an email to the iTunes user base? How do you value [an iPhone]? They are putting skin in the game, we're definitely putting skin in the game," Howard said. "It's all proportional to our ability."
Footage from the experiment will air in 30-second and 60-second TV spots set to premiere during next week's Grammy Awards ceremony on Monday, Feb. 15.