Facebook, Twitter voice support for Apple's stance on encryption [u]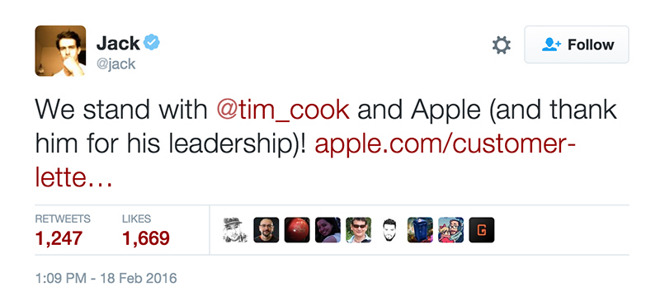 AppleInsider may earn an affiliate commission on purchases made through links on our site.
Twitter chief executive Jack Dorsey tweeted "we stand with Tim Cook and Apple," while Facebook expressed it would "fight aggressively" against any government actions to "weaken the security" of consumer products.
According to a followup report by Jessica Guynn for USA Today, Facebook similarly characterized a federal judge's order as a setting a "chilling precedent."
It cited the social network as stating, "We condemn terrorism and have total solidarity with victims of terror. Those who seek to praise, promote, or plan terrorist acts have no place on our services.
"We also appreciate the difficult and essential work of law enforcement to keep people safe. When we receive lawful requests from these authorities we comply.
"However, we will continue to fight aggressively against requirements for companies to weaken the security of their systems. These demands would create a chilling precedent and obstruct companies' efforts to secure their products."
Facebook's comment closely aligns with the statement Apple's chief executive Tim Cook posted yesterday, where Cook said Apple had worked with the FBI but exercised its legal right to challenge the court order demanding that Apple create new software to defeat the existing security systems of iOS.
Despite this, Guynn's report characterized Apple's ongoing cooperation as a "refusal to help the FBI break into the iPhone," a tone used by a number of other simplified news accounts.
Guynn also reiterated that other tech companies have taken a muted stance in support of Apple's stand, while noting that Microsoft and Yahoo declined to make specific comments on the issue.
A second USA Today article Brett Molina and Elizabeth Weise, prominently linked to within Guynn's, noted that if the assailants "had carried a phone running on the Android or Windows operating system, the FBI may not have needed to ask anyone for help getting in — they could have done it on their own."
It noted that "only Apple builds the ability to have the phone erased after a certain number of failed passcode attempts into its operating system."
Christopher Budd, the global threat communications manager for Trend Micro, was cited as saying "Apple is certainly ahead of the pack in terms of encryption capabilities."
The article also cited Filip Chytrý, director of threat intelligence for Avast Software, as noting that setting up similar failed passcode limits on Google's Android requires admin permissions, a special app and extra steps that amount to a task that no "general user would have been able to do."
Windows phones would similarly require special software downloads, Chytrý said.
Neither Google nor Microsoft responded to the site's requests for more information.
Update: In a related development, Apple has been given an extension to file its court response, Bloomberg reports, citing people familiar with the matter. The magistrate judge overseeing the case initially set Apple's filing deadline for next Tuesday, but that date has been pushed back to Feb. 26.