China Mobile reports strong 4G user growth in January, following Apple's iPhone 6s chart topping launch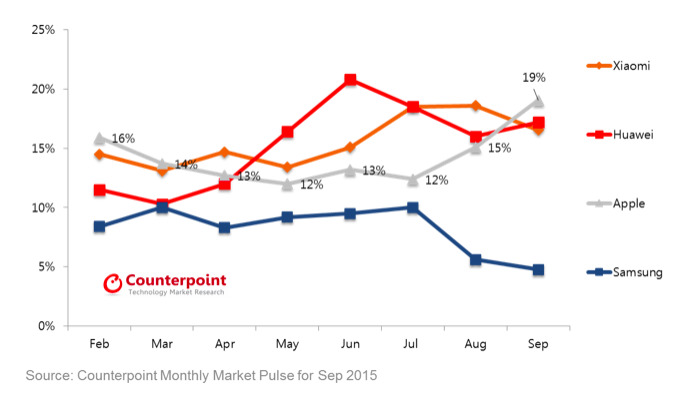 China Mobile, the world's largest carrier, added 23.3 million new 4G users last month, reaching 335.6 million 4G subscribers in total. That's a 214 percent increase over the previous year, and suggests that predictions of collapse in iPhone growth due to economic troubles in China are far fetched.
iPhone 6s topped sales share at launch. Source: Counterpoint Research
Record 4G growth on China Mobile is good news for Apple
In January, China Mobile "experienced its strongest 3G and 4G month-to-month unit growth in 11 months," noted Chuck Jones for Seeking Alpha. "It added 16.9 million vs. an average of just under 13 million for the past six months and the highest since February 2015's 17.7 million net new customers.'
China Mobile's record-high figures for new 4G users in December and in January occured despite the fact that the nation's Lunar New Year— China's largest gift giving season of the year— doesn't begin until February.
Apple won't report its March quarter sales until mid April, but record sales of 4G phones in China underscore strong results for Apple, which has capitalized on China as a new frontier for iPhone growth.
Last month, China's Ministry of Industry and Information Technology released data showing a significant drop in Android's share of smartphone sales in the December quarter, leaving a 33 percent gain for "non-Android smartphones," a segment that 90 percent of which is Apple's iPhone.
Last week, Apple also launched Apple Pay in China, both at payment terminals in partnership with UnionPay and as an in-app option for developers to add easy, secure and private transactions for goods and services.
"We think China could be our largest Apple Pay market," said Jennifer Bailey, Apple's VP of Apple Pay.
Apple may buck predictions of a March quarter decline
In September, Apple's chief executive Tim Cook noted that the company was on track to exceed its 74.5 million iPhones sold in the previous December quarter. However, a series of supply chain rumors asserted that Apple would cut orders from its suppliers in the March quarter, inciting a panic surrounding the idea that iPhone 6s sales were troubled.
A series of smartphone suppliers also warned of worse than expected results in the December quarter, but those fears did not materialize in Apple missing its sales goals for December. Instead, those troubles appeared to be linked to another vendor: Samsung, which itself actually warned investors to expect poor smartphone performance under increased competitive pressure.
Apple has repeatedly warned that rumors of supply chain cuts do not and can not provide a clear picture into the company's operations. Previous rumors floated by the Wall Street Journal and Japan's Nikkei of supposed supplier cuts as large as 50 percent did not result in any observable change in the number of iPhones that were actually sold.
However, expectations for Apple's March quarter remain pessimistic, due to global economic conditions and weakening currencies across many regions. Based on Apple's guidance, Jones provided an estimate for $16 billion in revenue from China in the March quarter, which would represent the the iPhone maker's first revenue decline in China since the March 2011.
However, Jones noted that "if China's three wireless providers - China Mobile, China Telecom and China Unicom - can continue to post strong 4G user growth and Apple gets a revenue kicker from its new China stores, my projection for the March quarter could be on the low side.
"It may be possible for the company to eke out a sequential revenue increase in China, which would make March quarter's revenue above management's high-end of guidance."