Apple's iPhone 6s awarded top smartphone sales share in China, outpacing Xiaomi, Huawei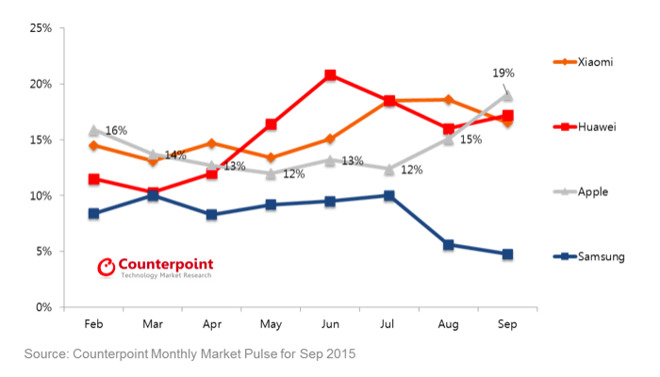 AppleInsider may earn an affiliate commission on purchases made through links on our site.
Counterpoint Research reported that Apple's iPhone 6s "broke records" in China, selling 7 million units in a month to reach a leading 19 percent share of smartphone sales in September.
Led by the popularity of a new Rose Gold finish option, iPhone 6s pushed Apple ahead of second place Huawei and third place Xiaomi, while Samsung dropped significantly in China's smartphone rankings. The firm noted that Apple also led smartphone sales in the U.S., giving the company "two crowns" across both of the world's largest two phone handset markets.
The firm states that its Monthly Market Pulse market share data "is based on sell-through (sales) surveyed at major mass retailers, distributors across different markets (35 countries) by Counterpoint Research's team plus cross checks with supply chain surveys, demand-side surveys & expert Analyst estimates, to complete the global monthly sales database."
Counterpoint's Research Director, Tom Kang stated in a release that "Apple has now conquered the Chinese market so it will come under sustained attack from local competitors. But it is becoming an embedded brand in China, standing for luxury and high quality."
Colleague Peter Richardson added that "with an iron grip on the US market and increasingly secure position in China, India will likely be Apple's next target market. But India is a very different market to China and will consequently require a separate and distinct strategic approach."
Apple is set to deliver its quarterly earnings report at the close of business today.