Rumor: Apple to launch 9.7" iPad Pro — not Air — in March with Pencil & Smart Keyboard support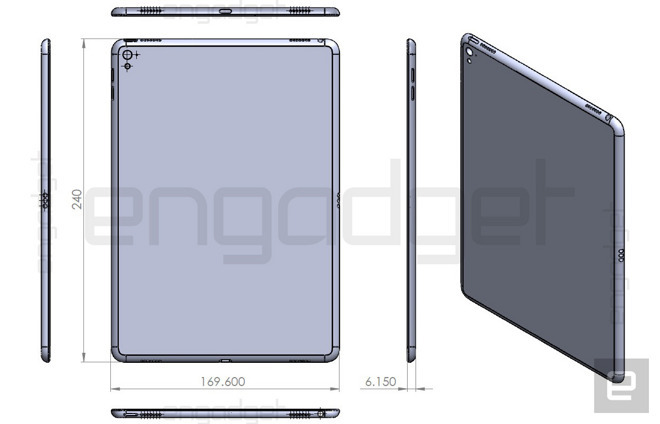 AppleInsider may earn an affiliate commission on purchases made through links on our site.
A report on Thursday claims Apple is preparing to launch a next-generation 9.7-inch iPad model at a widely rumored special event in March, but instead of extending the iPad Air lineage will brand the tablet under its newly-minted "Pro" line.
Prior to today, Apple was expected to debut a third-generation iPad Air product next month, but 9to5Mac says the forthcoming 9.7-inch slate will be branded as an iPad Pro variant and come with trappings commensurate of the badging, like support for Apple Pencil.
The purported shift mirrors Apple's MacBook naming convention, which currently covers three distinct tiers in MacBook Pro, MacBook Air and MacBook, each clearly delineated both by capability and aesthetics. For example the top-end MacBook Pro series comes in 13-inch and 15-inch flavors, the smaller of which crosses over with the more portable but less powerful 13-inch MacBook Air thin-and-light.
If Apple follows convention the smaller iPad Pro offering set to launch next month will be joined by a less capable 9.7-inch iPad Air, perhaps without a Smart Connector and Apple Pencil support. Similarly, the current iPad mini would become an Air variant, further streamlining a sometimes confusing tablet hierarchy.
It remains to be seen how the company plans to differentiate its tablets beyond internal specs, however. Traditionally, the iPad ecosystem has adhered to an overarching design trajectory, albeit applied to iPad Air and iPad mini at staggered intervals depending on a specific model's refresh cycle.
As previously reported, Apple's next-gen iPad is expected to sport a Smart Connector for attaching powered accessories, suggesting the company intends to market a compact version of its iPad Pro's Smart Keyboard. The 9.7-inch tablet should also feature a rear camera flash and quad speakers for stereo sound in both landscape and portrait viewing orientations.
Apple is anticipated to debut the new 9.7-inch iPad, alongside a next-generation 4-inch iPhone and miscellaneous Apple Watch announcements, at a media event on March 15.