Apple Pay to feature website integration later this year, report says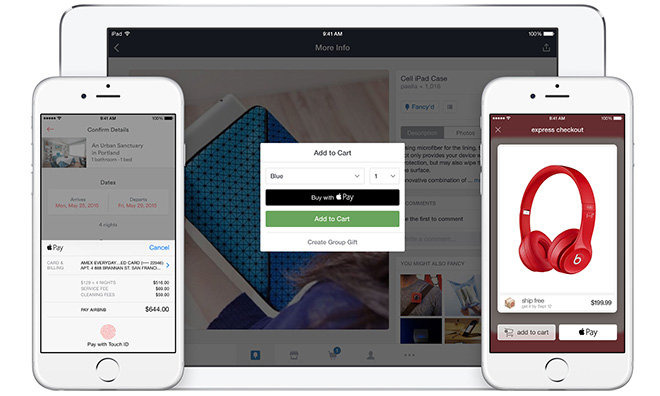 Apple is taking steps to position Apple Pay as a comprehensive digital payments platform, and will later this year move beyond touchless transactions and in-app purchases with support for mobile websites, a report said Wednesday.
According to people familiar with the matter, Apple has informed potential e-commerce partners that Apple Pay will soon support purchases place through the Web, providing a new path to payment for iPhone and iPad users, reports Re/code.
When Apple Pay debuts for Web purchases it will supposedly be limited to transactions conducted through Safari for iOS on Touch ID-equipped iPhones and iPads, a restriction likely put in place to maintain control over the flow of sensitive financial information. Apple is also mulling support for Mac users, though it is not clear if such capability will be available at launch.
As for a release date, sources said Apple is aiming to enable the feature before the lucrative holiday shopping season. Re/code believes an official announcement could come as soon as Apple's Worldwide Developers Conference this summer, though an exact timeline has not been set.
Apple Pay is Cupertino's play at the digital payments sector. Available on iOS devices with Touch ID fingerprint sensing modules, the system currently supports mobile transactions via NFC, as well as APIs for in-app purchases. Retailers in the U.S. have been slow to adopt Apple Pay, but the number is steadily growing. Following initial availability in America, Apple extended support to the UK last July, followed by Canada and Australia in November.
In February, the payments platform made its long-awaited debut in China with support for 80 percent of the country's issued credit and debit cards.