Apple to reveal fiscal Q2 2016 earnings on April 25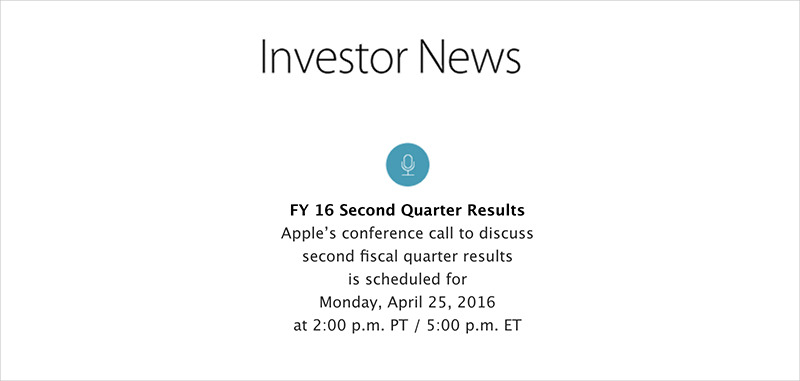 Apple on Monday announced an upcoming earnings conference call covering the second fiscal quarter of 2016, a period expected to see the first year-over-year iPhone sales contraction ever.
As noted on the company's Investor Relations webpage, Apple will detail its financials for the three-month period ending in March during a live streamed conference call on April 25. CEO Tim Cook and CFO Luca Maestri are expected to be in attendance.
During Apple's most recent quarterly conference call in January, Cook said he expects the current quarter to bring the first iPhone unit sales to decline since the device launched in 2007. Aside from the normal sequential decline after the holiday shopping season, iPhone 6s is facing a tough compare to the first quarter of 2015, which saw unusually high sales due to channel catch-up on previously constrained iPhone 6 supply.
"We do think that iPhone units will decline in the quarter," Cook said. "We aren't projecting beyond the quarter as [Apple CFO Luca Maestri] mentioned earlier, but at this point in time, we see that Q2 is the toughest compare."
Apple reported its biggest quarter ever in January, announcing $75.9 billion in revenue pushed along by 74.8 million iPhone sales, both record-breaking statistics.
Apple's quarterly conference call for the first fiscal quarter of 2016 is scheduled for Monday, April 25 at 2 p.m. Pacific, 5 p.m. Eastern. Along with Apple's stream, AppleInsider will be covering the event live.