Apple Maps debuts Nearby in 4 countries, expands Flyover and Traffic support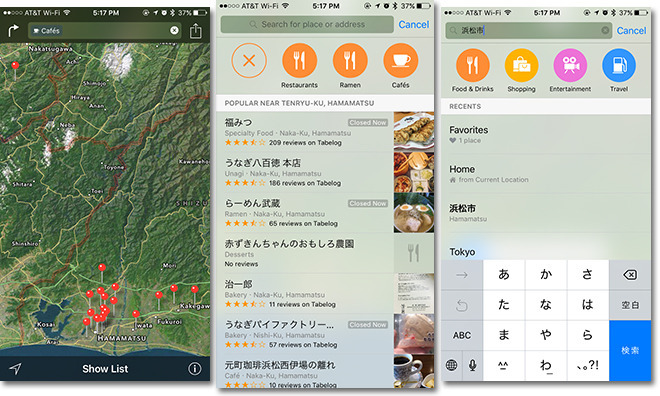 AppleInsider may earn an affiliate commission on purchases made through links on our site.
Apple on Tuesday strengthened its in-house mapping service with the rollout of five new Flyover locales, additional Traffic support and the activation of Nearby search in four countries.
As noted on Apple's Maps Feature Availability webpage, users living in Austria, Denmark, Japan and Switzerland can now access proximity-based Nearby search results on iPhone and iPad. The feature went live in Austria and Japan last week, though Apple did not release an official announcement at the time.
Nearby as part of iOS 9 to grant users quick access to proximity-based point-of-interest search results. Pulling data from multiple third-party sources, Nearby aggregates close by POI locations into categories, including food, drinks, shopping, travel, services, entertainment, health and transportation, each of which contains subcategories for further filtering.
Maps also expanded Flyover support with 3D imagery covering Augsburg, Braunshweif and Hanover in Germany, Newcastle upon Tyne in England and the Japanese prefecture of Niigata. Flyover is a tentpole Maps feature that offers a photorealistic bird's-eye view of popular and well-trafficked destinations.
Finally, Apple flipped the switch on real-time road traffic data in areas of Turkey.
The latest Maps changes come just over one week after Apple released iOS 9.3, which itself introduced a host of features like Night Shift and secure Notes.