Apple rolls out 'Nearby' Maps search feature in Japan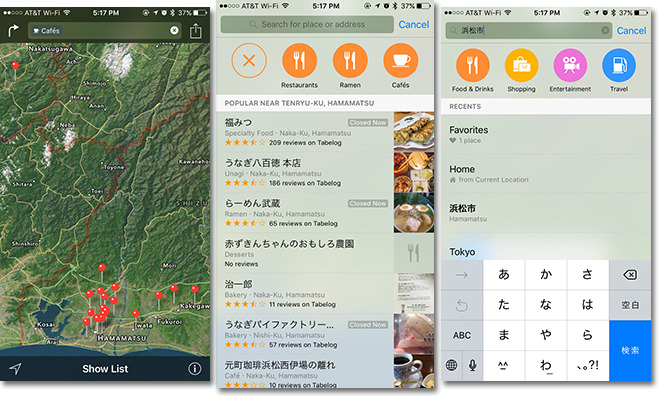 AppleInsider may earn an affiliate commission on purchases made through links on our site.
Apple on Tuesday flipped the switch on "Nearby" Apple Maps search results serving the Japanese market, offering users in that country quick access to commonly queried points of interest like restaurants, shopping malls, health services and more.
The new Nearby availability comes one day after Apple's latest iOS 9.3 point release, itself bringing a slew of new features to iPhone, iPad and iPod touch users. As noted by blog Ata Distance, Apple initially rolled out Nearby for Japanese customers last December, but quickly pulled the feature for unknown reasons.
AppleInsider confirmed that Nearby is indeed active across Japan, though Apple has not yet updated its official Maps feature availability webpage to reflect the expansion.
Nearby launched with iOS 9 as a proximity-based point-of-interest search feature first introduced by standalone iOS apps. Accessible in the Maps app (and as a Quick Action on iPhone 6s) or the system Search pane, Apple's programmed search feature aggregates and presents to users location data from a collection of third-party sources.
Maps users can select from a variety of categories, including food, drinks, shopping, travel, services, entertainment, health and transportation, each of which contains subcategories for narrowing down results. Tapping on a particular POI grouping displays a list of popular hits ranked by proximate distance. If available, Nearby will also display store hours, ratings from Yelp and pictures.
Apple last expanded the Nearby feature in October with support for Australia, Canada, France and Germany.