New teardown reveals iPhone SE contains display identical to iPhone 5s, larger battery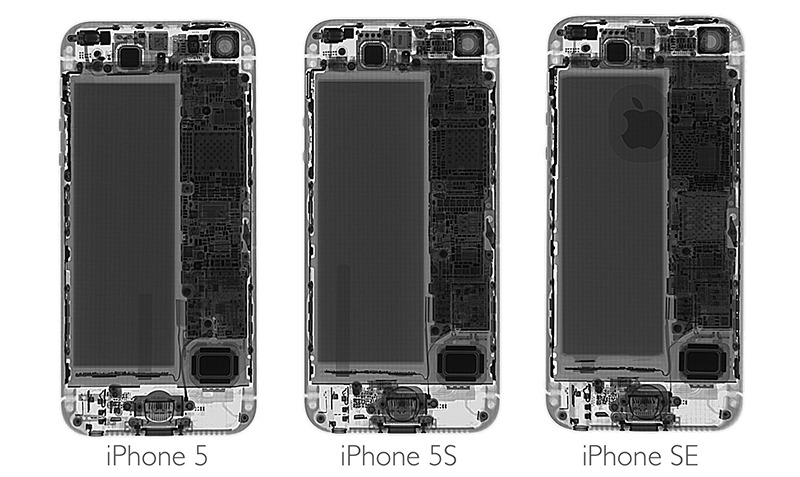 Following Chipworks' teardown of Apple's new iPhone SE, iFixit on Thursday posted a comprehensive dismantling that shows the next-gen 4-inch iPhone's display is identical to its iPhone 5s predecessor, among other interesting finds.
According to the report, Apple appears to be using more off-the-shelf components than expected in its 4-inch form factor revamp. In particular, iFixit installed an iPhone 5s display into iPhone SE, finding the older model panel fits and functions perfectly in Apple's new device. Also interchangeable with iPhone 5s are the iPhone SE's loudspeaker, SIM card tray and vibration motor.
Overall, iPhone SE is largely similar to its iPhone 5s forebear, an unsurprising development considering the device is merely an iPhone 5 series shell stuffed with refreshed components. As noted in yesterday's Chipworks teardown, iPhone SE's internal design, including the logic board, is identical to 2014's iPhone release.
While the phone's aesthetics haven't changed, iFixit did uncover a few upgrades from the years-old model, the most prominent being a battery capacity upgrade from 1,560mAh to 1,624mAh. The battery connector on the SE differs from that of the 5s, meaning the new cell can't be used as a plug-and-play upgrade.
As previously announced, the rear-facing 12-megapixel iSight camera is a vast improvement over the 8MP shooter on iPhone 5s. Interestingly, while the specifications match those of the iSight module on iPhone 6s, the parts appears to be slightly modified and are therefore not interchangeable.
Other minor differences include a modified Lightning connector assembly, the inclusion of silicone seals around certain logic board connections and the Apple logo insert first introduced with iPhone 6. As noted by Chipworks, the biggest logic board additions are Apple's A9 SoC and an NXP 66V10 module for facilitating touchless Apple Pay transactions.
Apple unveiled iPhone SE as a new budget entry earlier this month. With a starting price of $399, the device is aimed at burgeoning markets, Android switchers and iPhone faithful who prefer smaller form factor devices.