Tesla unveils more affordable Model 3, gives glimpse at Apple's future auto competition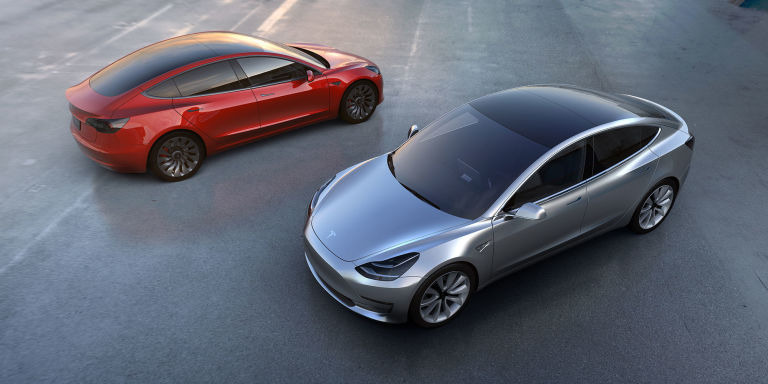 Tesla on Thursday night unveiled the long-awaited Model 3, its first electric car to be priced for the general public instead of rich sports and luxury car buyers.
The four-door will cost just $35,000 before options, approximately half the sticker price of a 2015 Model S. The first 200,000 U.S. units will also qualify for federal tax subsidies supporting electric vehicles, potentially making the car as cheap as $27,500.
Despite being scaled back, the Model 3 will accelerate from 0 to 60 miles an hour in under 6 seconds, and have a range of at least 215 miles per charge. Tesla CEO Elon Musk said that his company is hoping to extend range even further by the time the first Model 3s are delivered, in late 2017.
Prior to last night's announcement, lineups at Tesla showrooms managed to secure 115,000 paid reservations for the vehicle — a number which has likely only increased since online reservations were launched with the unveiling.
The Model 3 will also include a large touchscreen dash interface — in landscape orientation, unlike the Model S — and support not just Autopilot assisted driving, but future self-driving functions.
Tesla's prospects are riding on the success of the Model 3, in no small part because of investor expectations and the company's massive infrastructure investments. The Gigafactory built to increase battery production is worth billions of dollars, and by the time the Model 3 ships the company will have doubled its worldwide tally of charging stations.
A later version of the Model 3 could be in direct competition with Apple's rumored electric car. That vehicle is expected to arrive no earlier than 2019 or 2020, however, and may or may not have self-driving technology in its first generation. Many of the people working on the project are believed to have been poached from Tesla.