Microsoft appears to be copying Apple's 2014 Continuity Handoff feature for Windows PCs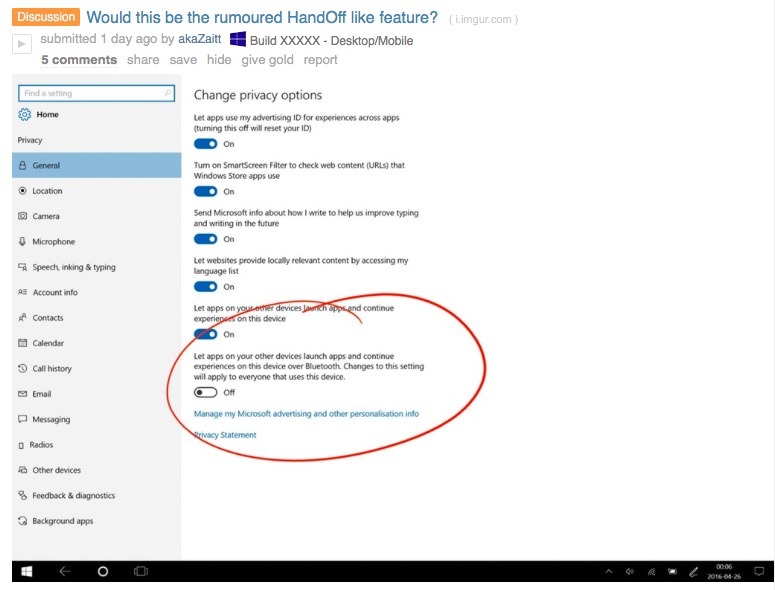 Two years ago, Apple introduced Handoff— part of Continuity— as an innovative solution to a problem nobody had anticipated: how to wirelessly, automatically transition work in progress between a phone and tablet or desktop computer. Now Microsoft appears to be copying the feature for Windows 10.
A posting to the Windows Insiders Reddit depicts a privacy setting that allows "apps on your other devices" to "launch apps and continue experiences over Bluetooth."
Microsoft earlier this month demonstrated Project Rome at its Build developer conference, which was said to enable users "to connect, manage and control any connected app or device proximally or from the cloud."
Belatedly bringing features copied from Apple's innovative Bluetooth-powered Continuity suite— first introduced for iOS 8 and OS X Yosemite— to Windows would benefit far fewer users. That's because Windows 10 hasn't exactly caught on as a mobile platform for smartphones in any way comparable to the more than 1 billion installed base of iPhones and iPads.
Additionally, while Continuity initially looked like a way to enhance the integration between Macs and iOS devices, the introduction of Apple Watch clarified a new purpose for Continuity in making tasks launched on the new wearable easy to seamlessly transfer to the user's phone.
Like Windows 10 smartphones, Microsoft's wearable Band similarly lacks any significant installed base of users comparable to Apple Watch. However, following Apple's lead does show that Microsoft— along with Google— continues to appreciate Cupertino as providing a source of inspiration for its future roadmap of operating system features, regardless of whether Windows 10 might ever find any relevance outside of the shrinking PC plateau.