Watch: Apple's 2016 MacBook vs. 2015 13" MacBook Air in head-to-head comparison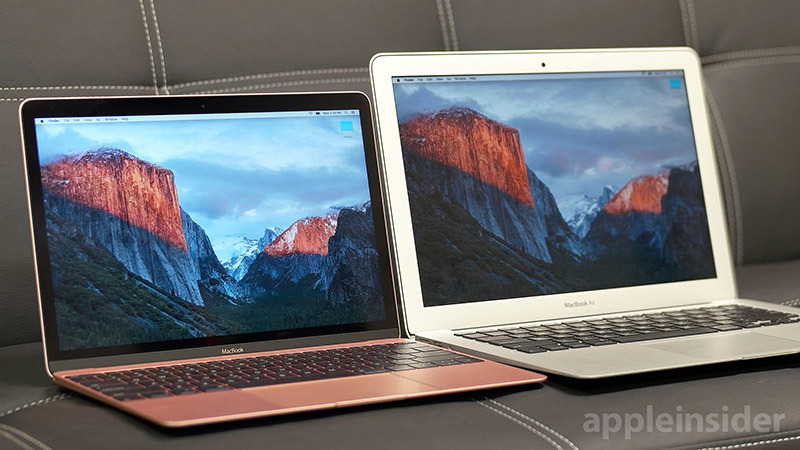 Apple's latest 12-inch MacBook refresh brings better battery life and a faster processor to the ultraportable platform, but in some respects is outperformed by last year's 13-inch MacBook Air. Is the ultimate in portability worth concessions like a single USB-C port and slower CPU? Find out in AppleInsider's head-to-head comparison.
In our last video comparison we pitted Apple's second-generation MacBook with Retina display against its predecessor, finding the new model only marginally better in terms of performance. But how does the new 12-inch ultraportable stack up against the company's aging, yet ever popular, MacBook Air?
If you're in the market to buy a thin and light MacBook, but are having a hard time deciding between the recently updated 12-inch Retina MacBook or a 13-inch MacBook Air, we don't blame you.
Both machines are considerably thin and light, and while there doesn't seem to be a huge difference on paper, handling the laptops in person is where the MacBook stands out as the superior machine in regards to portability. That portability does come at a cost.
With the MacBook, you only have one USB-C port that is used for both charging and as a data connection. This is where the MacBook air really shines, with the dedicated MagSafe charging port we love, along with two USB 3 ports, a Thunderbolt 2, and an SD card reader. One benefit of the USB-C connector on Apple's 12-inch MacBook is that it can charged with a cheap USB battery bank, which is very convenient.
If you work with photos and video, you'll know how convenient it is to have that SD card slot. But for that same crowd, the MacBook Air's screen is a letdown. Other than being larger, it's inferior to the 12-inch MacBook's Retina display in every other way. The viewing angles, contrast, and color accuracy is much worse, and the resolution isn't even "Full HD," giving you less screen real estate to work.
Even though the MacBook Air has a more powerful processor that requires a fan to stay cool, the fan-less Retina Macbook is only slightly behind in performance, so you won't notice a big difference in real world speed between these two models. The larger size of the Macbook air does afford it a more capacious battery which yields two extra hours of web usage.
In creating the ultra-thin 12-inch MacBook, Apple had to redesign the keyboard and trackpad. The keyboard has much less key travel which takes some getting used to. But thanks to the wider and more balanced butterfly keys, once you get used to the feeling you can type just as fast and accurately as with the MacBook air that has a typical Apple keyboard that is loved my many. The new thinner Retina MacBook keyboard is also lit by individual LEDs, giving it a sharper look with less backlight bleed.
The Force Touch trackpad is an improvement over the MacBook Air. Even though it feels like you're actually pressing down, Apple is using haptic feedback motors that simulate the click. This makes the trackpad thinner and provides uniform feedback no matter where you press. The design also gives you flexibility in adjusting feedback strength and sound.
With all the concessions made to make MacBook as slim as possible, you would expect the speakers to be less powerful and lacking adequate fidelity. While the 12-inch MacBook does lack a bit of low-end punch, its speakers are actually better sounding and slightly louder than those in the larger MacBook Air.
One area where MacBook Air takes a lead is its FaceTime HD camera. While neither machine provides great image quality, the FaceTime shooter in the 12-inch MacBook maxes out at a resolution of 480P, the same as the very first MacBook webcam. Which by the way, was released 10 years ago.
If you're looking for a portable machine in the $1,200-plus price range, and the lack of expansion ports doesn't bother you, go with the 12-inch MacBook. If you need the flexibility of Thunderbolt and the other ports the Air offers, and the low quality screen isn't an issue, the MacBook Air is the best pick for you.