Apple unveils Union Square store in San Francisco ahead of Saturday opening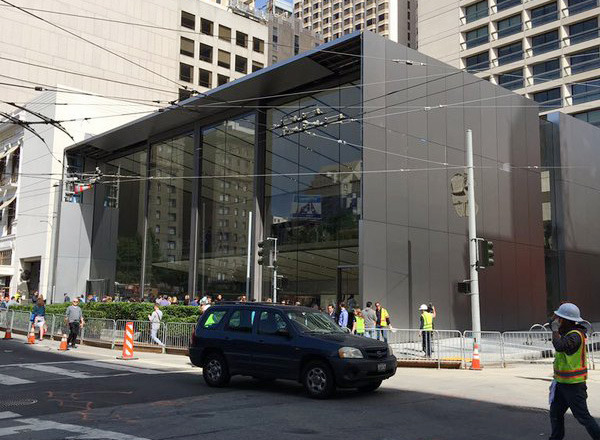 Apple on Thursday revealed more details about its new Union Square outlet in San Francisco — launching on Saturday — including design features present in other recent Apple Stores, as well as some traits unique to the location.
Among the latter are a plaza with public seating and Wi-Fi, and a fountain sculpture by Ruth Asawa that was preserved during the construction process. Apple noted that Asawa's piece is being joined by a new work, "Love," commissioned by the nearby Hyatt hotel and created by local artist Laura Kimpton.
Another original design trait will be the store's 42-foot sliding glass doors, which will help take advantage of San Francisco's mild climate.
One of the centerpieces of the interior will be the "Forum," with a 6K-resolution video wall and seating. This is meant to play home to "Today at Apple," including programs for children, teachers, and developers, as well as sessions on art and gaming. The space will also be used to host events about the making of movies on iTunes, and premiere songs and videos from Apple Music.
On days with better weather the plaza may sometimes host Today at Apple, as well as musical acts who will then do interviews inside the store.
Repairs and other troubleshooting will be done under trees in the "Genius Grove." A section called "The Avenue" will feature interactive "windows," as well as Apple "Creative Pro" staff offering their expertise. Some products on display will be part of an "Only at Apple" collection of curated third-party accessories.
Lastly, a space called "The Boardroom" will be tucked away from the public so that the store's staff can offer help to business customers and developers.
Apple incidentally noted that that the store will be powered entirely by renewable energy, including solar panels on the roof, and that the company is helping the Ruth Asawa School of the Arts build a visual arts lab with 45 workstations using Apple products.
The Union Square store will open at 10 a.m. Pacific time on Saturday, following the Friday closure of its predecessor on Stockton Street.