Apple working to bring entire product line to India, Tim Cook says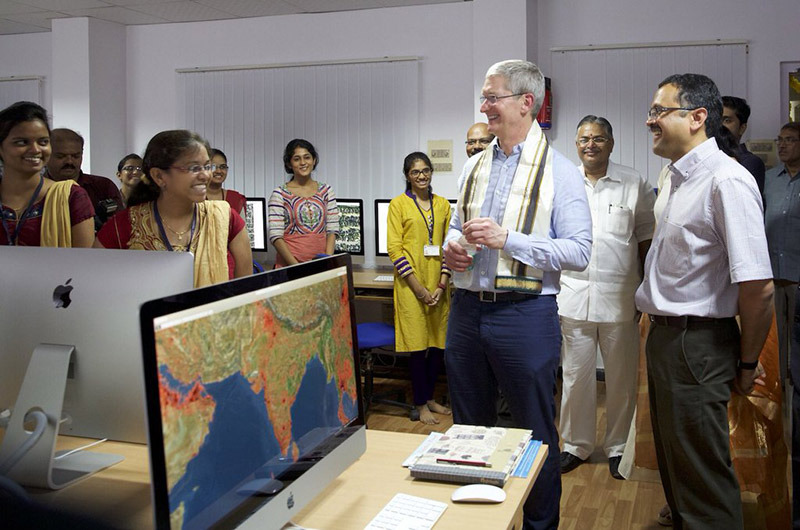 Apple CEO Tim Cook continued a tour of India on Friday, granting a one-on-one interview with a local television network that offered a bit more insight into the company's ambitions for the developing market.
Speaking with NDTV's Vikram Chandra, Cook hit many of the same talking points covered in an interview published by The Hindu earlier today. With 40 minutes of onscreen time, however, the Apple chief was able to speak at length about key initiatives planned for India, including a "holistic" effort to bring all current Apple products and services to the massive Asian market.
During his limited time in the country, Cook said he learned a great deal about India's business and culture, two key elements Apple must understand if it hopes to gain a foothold in the region. Specifically, Apple's multi-pronged approach involves comprehensive evaluations of government operations, consumer culture, media, services, technical talent and more. This includes investments like a recently announced iOS design and development center in Bengaluru and a Maps development facility in Hyderabad.
He added that cultivating the Indian market is a top-five priority for Apple. There has been concern on Wall Street that Apple faces a tough road ahead in China, a major market Apple itself expects will one day be its largest, prompting speculation that the iPhone maker plans to ratchet up efforts in India. Given Cook's statements, it seems those rumors hold water.
Apple is in ongoing talks with regional wireless carriers, government agencies and corporations over future initiatives in the country. It is eyeing what appears to be an aggressive expansion in hardware, retail sales, internet services and more, but must first arrange appropriate regulatory approvals and private sector partnerships.
There are obstacles standing in the way of progress, however. For instance, Apple has yet to gain approval for importing and selling preowned iPhones, a key strategy in introducing customers to the iOS ecosystem. Indian consumers are used to purchasing low- to mid-tier handsets, meaning iPhone might be a tough sell amid competition from the like of Samsung. Cook voiced his optimism in the process, adding that Apple's lineup will appeal to both current and future buyers.
A clip of the interview was posted to YouTube today.
Other themes were discussed, like whether Apple would consider modifying its brand, pricing or devices to better fit Indian culture. Chandra asked if Cook would consider releasing an iPhone designed specifically for India, for example.
Cook believes Apple's brand identity — a California tech company with global reach — is a strong asset, and while that won't change anytime soon, the company is investigating how to better market its products to the Indian demographic. To that end, Apple is working on competitive price tiers for iPhone, a buildout of its internet services ecosystem and the introduction of Apple Store, among other resources, he said.
Cook is expected to meet with Prime Minister Narendra Modi this weekend as his India tour comes to a close.