Rumor: leaked schematics reaffirm dual-lens camera, Smart Connector for 'iPhone 7 Plus'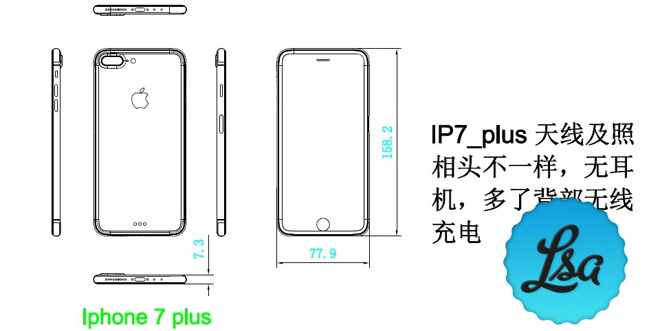 AppleInsider may earn an affiliate commission on purchases made through links on our site.
New sets of alleged "iPhone 7" and "7 Plus" schematics purportedly leaked on Thursday may support rumors the Plus will ship with a dual-lens camera and a Smart Connector, although the standard model may still have some form of camera upgrade.
Unlike similar sets of plans that emerged earlier this month, the new ones obtained by LetemSvetemApplem include measurements. These suggest that the standard iPhone 7 will be 0.1 millimeters thicker than the iPhone 6s at 7.1 millimeters, whereas the 7 Plus will be unchanged from its predecessor at 7.3 millimeters.
In this sense the schematics suggest that Apple has reached a practical limit on thinness, or at least that it's no longer an overriding design priority. Indeed the 6s is already 0.2 millimeters thicker than the iPhone 6.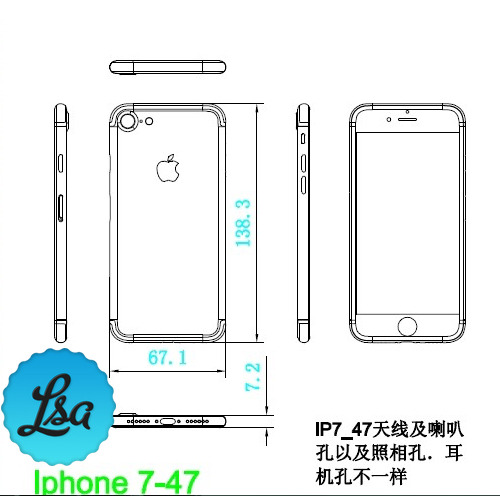 Another supporting element for this argument may be the standard iPhone 7's camera, which in the new plans not only retains a lens "bump," but has a wider opening. Older rumors hinted that the product would lose the bump — it may now be necessary, though, if the device includes optical image stabilization, previously a Plus-only feature.
A more questionable aspect of the schematics is a lack of top and bottom bezels on the Plus. While Apple is rumored to be working on an edge-to-edge display, more likely is that the schematics contain a mistake or are simply inauthentic, since that technology isn't expected until 2017.
LetemSvetemApplem suggested that the Smart Connector on the 7 Plus will be used for wireless charging. The component would presumably support data transfer as well, allowing for more advanced accessories like keyboards.
Notably the schematics also imply that both iPhone 7 models will ditch a 3.5-millimeter headphone jack, turning to Bluetooth and Lightning connections instead.
Apple is expected to ship its new iPhones sometime in September following its regular fall press event.