Apple's iOS 10 makes iPad a 'Home Hub,' expands HomeKit appliance support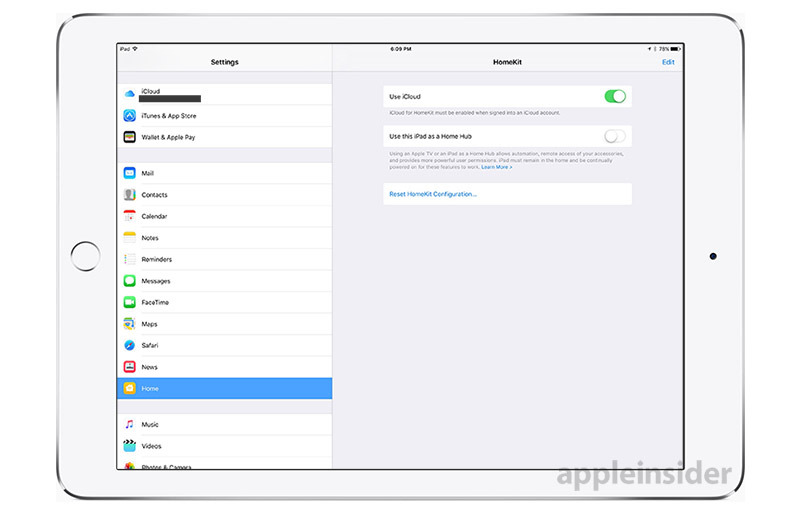 AppleInsider is supported by its audience and may earn commission as an Amazon Associate and affiliate partner on qualifying purchases. These affiliate partnerships do not influence our editorial content.
Apple is getting serious about HomeKit. Two years after introducing the automated home platform on iOS 8, the company this week announced new support for a host of connected appliances, as well as a forthcoming iOS 10 setting that turns iPad into a smart home hub.
Apple SVP of Software Engineering Craig Federighi revealed a slew of new HomeKit features onstage at the Worldwide Developers Conference on Monday, including a dedicated Home app set to launch with iOS 10 this fall.
For iPad users, Home comes with system settings for connecting with iCloud and an option to transform the tablet into a hub. As seen above, the "Home Hub" setting lets users set up home device automations, like new Scenes macros, and grants remote access to individual accessories, presumably through iCloud. Currently, users without a third-generation or newer Apple TV have to purchase a third-party hub, which in many cases requires one or more separate apps.
Apple also promises "more powerful user permissions" when using either Apple TV or iPad as a Home Hub, but has not yet elaborated on what services or functions that entails. A link included in the iOS 10 beta points to a support document covering general HomeKit setup and methods for troubleshooting problems.
In addition to the standalone Home app, Apple is looking to expand HomeKit's reach into the home automation market. When the next-generation platform launches, users can look forward to support for at least five new connected device categories: air conditioners, air purifiers, cameras, doorbells and humidifiers. At the WWDC keynote Apple offered the example of streaming audio and video from a smart doorbell that doubles as a security monitoring system.
Federighi during yesterday's presentation said almost every major smart home device manufacturer is either shipping a HomeKit-enabled product or has announced support for the platform. Further, contractors in the U.S. and China are building HomeKit appliances directly into new homes. The decision to integrate with HomeKit ultimately rests in the hands of manufacturers, but it appears Apple is pushing hard for wider availability in hopes of getting its home automation project off the ground.
The new HomeKit and iOS 10 Home app are due out this fall.