Inside iOS 10: Apple doubles down on security with cutting edge differential privacy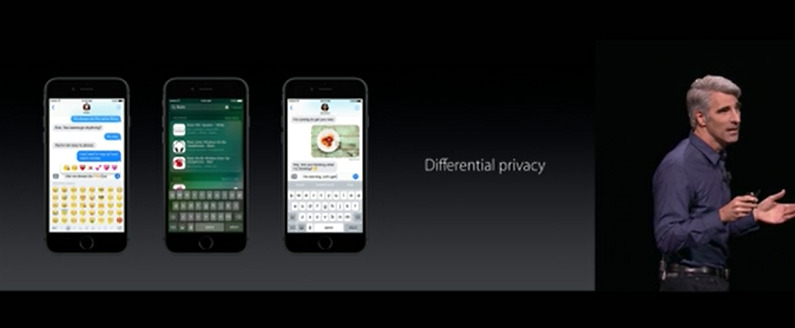 After a bruising battle with the Federal Bureau of Investigation and a contentious debate over encryption in the wake of the San Bernadino terrorist shooting, Apple has doubled down on privacy protection by researching cutting-edge privacy techniques for iOS 10, allowing advanced new features while protecting user data.
"All of this great work in iOS 10 would be meaningless to us if it came at the expense of your privacy. And so in every feature that we do we carefully consider how to protect your privacy," Craig Federighi, Apple's senior vice president of Software Engineering, explained at this year's Worldwide Developers Conference.
In pursuit of advanced protection, Apple has invested in "differential privacy," a means of maximizing the accuracy of queries from statistical databases while at the same time minimizing the chances of identifying specific individuals. Differential privacy uses a variety of techniques to do this, like hashing, subsampling and noise injection.
Apple's work in differential privacy has earned the praise of Aaron Roth, a world-class expert on the subject, who called the technology in iOS 10 "groundbreaking."
When Aaron Roth, a world-class privacy researcher from the University of Pennsylvania, saw the company's efforts, he called them "groundbreaking" and said that scaling it up and incorporating it broadly into the technology "is visionary and positions Apple as the clear privacy leader among technology companies today."
The technique is important since Apple, like many companies, attempts to analyze device use to spot mass trends so that software improvements can be made — for example, discovering new words to include in QuickType.
In addition, Apple is continuing its practice of providing end-to-end encryption by default in apps like FaceTime, Messages and HomeKit to protect communications. When it comes to advanced, deep learning, artificial intelligence analysis of user data, it is being done on the device itself, keeping personal data under user control.
Federighi also pledged that Apple builds no user profiles based on internet searches.
"We believe you should have great features and great privacy," he said. "You demand it and we're dedicated to providing it."
Editor's note: This article was originally published in June following Apple's announcement of iOS 10 at WWDC 2016. It has been updated and republished to coincide with the mobile operating system's public release. For more on iOS 10, see AppleInsider's ongoing Inside iOS 10 series.