Apple working to reduce excess inventory ahead of 'iPhone 7,' Brean Capital says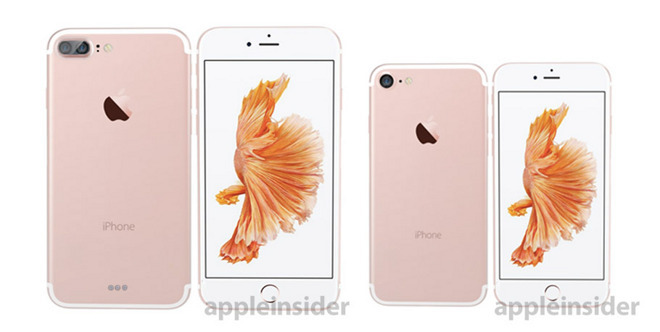 AppleInsider is supported by its audience and may earn commission as an Amazon Associate and affiliate partner on qualifying purchases. These affiliate partnerships do not influence our editorial content.
iPhone shipments in the coming quarters could be lower than Wall Street expects, as Apple works to reduce excess channel inventory ahead of the anticipated "iPhone 7" launch, in what could be the last painful quarter before over a year of growth, according to Brean Capital.
Analysts Ananda Baruah and Shenlun Wang of Brean Capital LLC predict that iPhone inventories will bottom out in the June and September quarters, as Apple works to reduce excess supply. Come December — Â the anticipated first full quarter of "iPhone 7" availability — they believe Apple could see the start of five straight quarters of growth, reaching a target price of $125 per share.
Until then, Baruah and Wang cut their iPhone estimates for both the June and September 2016 quarters to 40 million units. Those numbers are below Wall Street expectations, estimated to be around 42 million units for each three-month frame.
Brean estimates that Apple entered calendar 2016 with between 17 million and 18 million of iPhone inventory in the channel, and that the company would like to reduce that number to about 10 million units in time for the "iPhone 7" launch, expected in September.
The firm's estimates project that Apple reduced March quarter inventory by just a half-million units. Apple itself guided for a $2 billion reduction in the current June quarter, which Baruah and Wang equates to about a 3 million iPhone unit channel reduction.
"If our supposition and math is accurate, that leaves AAPL with 3M-5M more units to remove from the channel in the (September quarter)," they wrote.
But once the "iPhone 7" hits, and excess channel inventory has been moved, Brean believes iPhone sales will be in a position to return to growth at the end of 2016.
The firm also believes Apple could introduce its 2017 iPhone, with a new "form factor leap," earlier than expected next year, potentially around June or July. That would be a break from recent history, where Apple has stuck with September launches for new iPhone models.