Apple features 'Lifeline' in latest Developer Insights series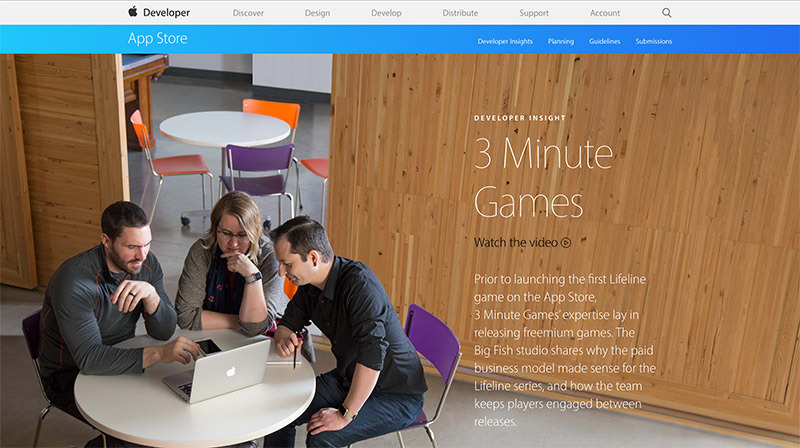 In an addition to its developer resources mini-site on Thursday, Apple posted a profile of "Lifeline" developer 3 Minute Games, highlighting how the studio found success with the iOS App Store's paid business model.
The latest Developer Insights spotlight takes a closer look at the developers behind the hit iOS series Lifeline, an interactive game that puts players in real-time communication with a fictional character. Unlike other titles, Lifeline goes beyond traditional app-based gameplay by integrating iOS and Apple Watch notifications.
One of the first apps to offer support for Apple Watch, Lifeline garnered critical praise for thinking outside the app sandbox. Customers agreed. The game's success, and Apple's App Store business model, allowed 3 Minute Games to create, market and sell multiple sequels.
"We chose the paid business model for Lifeline because it was the best fit for the game's design," said Mars Jokela, Lead Game Designer at 3 Minute Games. "It's a very immersive story. We didn't want any upsell points to interrupt your experience in the game."
Along with Jokela, Apple interviewed 3 Minute Games Lead Artist Dan Selleck and Lead Producer Marisa Bell. An accompanying video walks viewers through the development process, from conception to grassroots advertising to App Store marketing. For developers, the story provides valuable insight into a premium app franchise.
The profile is the latest addition to Apple's "Making Great Apps for the App Store" mini-site, a collection of developer resources that debuted in April. Along with Developer Insights, the site also offers tips and support documents regarding app planning, App Store guidelines and software submission.