Apple Music banks on content creation to win artist exclusives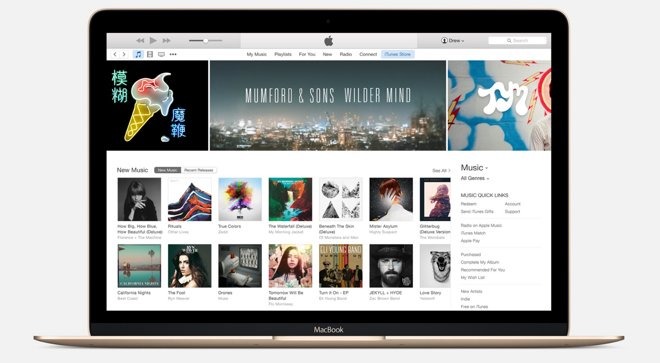 AppleInsider may earn an affiliate commission on purchases made through links on our site.
Operating in the background of the music industry's slow pivot to streaming distribution, Apple is quietly financing music videos, documentaries and other unique opportunities in hopes of scoring fresh exclusives for Apple Music.
Apple is advantage of its unique position as a leading digital content distributor with nearly endless resources to bankroll cutting edge multimedia projects for top artists, a bold step in securing partnerships for its Apple Music streaming service, reports Rolling Stone.
According to the report, Apple financed Eminem's "Phenomenal" music video, Taylor Swift's "The 1989 World Tour" concert film, Drake's "Hotline Bling" and two versions of The Weeknd's "Can't Feel My Face." The project is apparently a priority for Apple, as the publication notes even high ranking executives like CEO Tim Cook are getting involved in content production. Cook offered input on M.I.A.'s "Borders" video, for example.
Led by Apple director of original music content Larry Jackson, the content creation initiative was characterized as a corporate experiment when its existence was revealed in reports earlier this year. Today's profile, however, makes it clear Apple views the project as vital to its survival in the music business.
"We'd like to be a home where artists can do their thing," said music mogul turned Apple executive Jimmy Iovine.
The strategy appears to be paying off. Last year, Apple premiered Eminem's video on iTunes to much fanfare, while Apple Music more recently enjoyed two weeks of exclusivity to Drake's "Views from the 6" album when it debuted in April.
Even Taylor Swift, a vocal opponent of unfair streaming music licensing practices, stumped for Apple Music in a recent television ad.
Apple's push for content is good for artists, too. In February, Future's album "EVOL" topped Billboard charts as an Apple Music and iTunes exclusive, and Chance the Rapper's album "Coloring Book" in April became the first streaming exclusive to debut in the top ten of the Billboard 200 albums chart.
Jackson said the goal is to make Apple Music a fixture of pop culture, or at least position the service in close proximity to current goings-on. He likens the model to "MTV in its Eighties and Nineties heyday. You always felt that Michael Jackson or Britney Spears lived there. How do you emotionally conjure up that feeling for people?" In short, Apple wants Apple Music to do for streaming what iTunes did for digital downloads 15 years ago.