Apple's Mac sheds marketshare in Q2, sinks to 5th place amid worldwide sales slowdown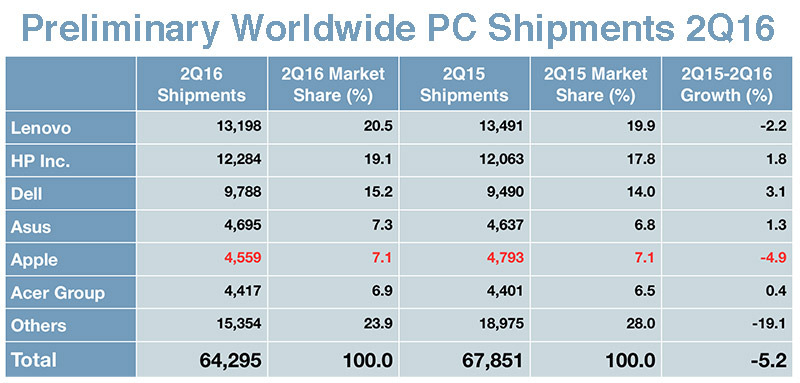 Apple's share of the global PC market took a substantial hit during a challenging second quarter, dropping the company down to fifth place among the world's top computer manufacturers, according to preliminary numbers from market research firms Gartner and IDC.
Gartner reports Apple's worldwide marketshare remained steady at 7.1 percent during the second quarter of 2016, though year-over-year shipments dropped to 4.6 million units, down from 4.8 million in 2015. The 4.9 percent sales contraction was the worst performance put in by a top-five vendor, but in line with a 5.2 percent decline in overall PC shipments, the firm said.
Asus replaced Apple in the No. 4 spot on a 1.3 percent uptick in worldwide shipments over the same three-month period. The Taiwanese producer shipped 4.7 million units for the quarter.
"One of the ongoing problems in the PC market has been the price hike in selected regions due to the weakening local currency against the U.S. dollar," said Gartner analyst Mikako Kitagawa. "The price issue has impacted the EMEA, and Latin America regions for the past year. However, PC shipment declines became rather modest in the second quarter compared to previous quarters, which suggests a fading currency impact."
Despite being down 2.2 percent year-over-year, Lenovo managed to ship 13.2 million units in quarter two, good enough to retain its lead with a 20.5 percent share of the global market. HP came in second with 12.3 million units shipped, while third place Dell saw the quarter's biggest gains with a 3.1 percent year-over-year bump on shipments of 9.8 million units.
Acer rounded out the top six with a 6.9 percent share of the market on 4.4 million units shipped.
Apple's U.S. results were even more dismal, with Gartner tracking a 9.3 percent year-over-year decline on 1.9 million units shipped, again the worst performance of any top-five vendor. Mac dropped to fourth place behind Lenovo, which saw U.S. shipments grow 9.2 percent to 2.2 million units. Dell shipped an estimated 4.1 million computers to surpass HP as the domestic market leader, while Asus brought up the rear with 751,000 shipments.
Apple fared much worse in IDC's numbers, which placed Mac's worldwide marketshare at 7.1 percent last quarter on 4.4 million shipments, down 8.3 percent from 2015. Like Gartner, IDC saw Asus usurp Apple for fourth place with an estimated 4.5 million computers shipped, up 5.4 percent from the year ago quarter.
Lenovo's marketshare slipped 2.3 points to 21.2 percent, but the Chinese company led the pack with 13.2 million units shipped. HP jumped 5.1 percent on 12.9 million shipped units and Dell came in third with an estimated 10 million shipments and 16 percent marketshare.
For the U.S., Apple retained its fourth place spot ahead of Acer on IDC's tracker with 1.9 million shipments, down 7.6 percent year-over-year. HP shipped an estimated 4.5 million units to lead Dell's 4.4 million, while Lenovo came in third with 2.4 million units shipped. All top-five manufacturers except for Apple recorded double-digit gains from the year ago quarter.
Apple's sales lull could lift this fall, when the company is expected to refresh its popular MacBook line of products. Particularly, a hotly anticipated MacBook Pro revamp with OLED touchbar and slim form factor is predicted to launch in the fourth quarter. Other rumors suggest Apple plans to expand its MacBook thin-and-light series with a 13-inch model some time in the third quarter.