Logitech debuts Create Backlit Keyboard Case for 9.7" iPad Pro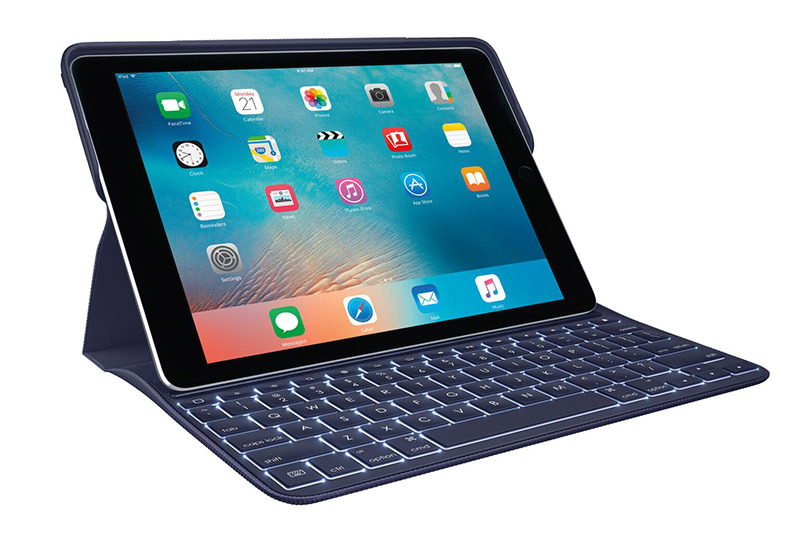 Accessories manufacturer Logitech on Tuesday introduced a 9.7-inch version of its Create Backlit Keyboard Case for iPad Pro, which like its bigger 12.9-inch sibling features folio-style tablet protection, a full-size keyboard and support for Apple's Smart Connector.
Unlike other portable tablet keyboards, the Create Backlit Keyboard Case was designed specifically for Apple's iPad Pro, with both data connectivity and charging accomplished via iPad's magnetic, three-contact Smart Connector.
As AppleInsider noted in our first look at Logitech's 12.9-inch version, the hardwired arrangement eliminates lag and reduces wait times associated with system pairing and connecting over Bluetooth. In addition, the Smart Connector format allows for connected accessories to draw power directly from iPad's battery, negating the need for recharging. To help conserve battery life, Create enters sleep mode eight seconds after the last keyboard stroke.
On the inside, the keyboard features chiclet-style keys with a key travel of 1.4 millimeters. Logitech was able to stuff in a row of iOS shortcuts for common commands like return to home screen, Spotlight search, screen brightness adjustments and audio playback control. Further, the case can detect when it is in the open and closed positions, automatically waking iPad or putting the tablet to sleep.
The new Create model features an aesthetic similar to the 12.9-inch version, with custom molded interior elements designed to cradle iPad Pro and an Apple Pencil. A woven fabric outer layer protects against bumps, scratches and spills.
Logitech was the first — and is still the only — third-party keyboard maker to support Apple's new Smart Connector technology. The company was granted early access to iPad Pro hardware prior to launch last year.
The Create Backlit Keyboard for Apple's 9.7-inch iPad Pro sells for $129.99 and is available today in black and blue from Logitech and Apple.