Apple counters Australian banks' call for iPhone NFC access, cites handset security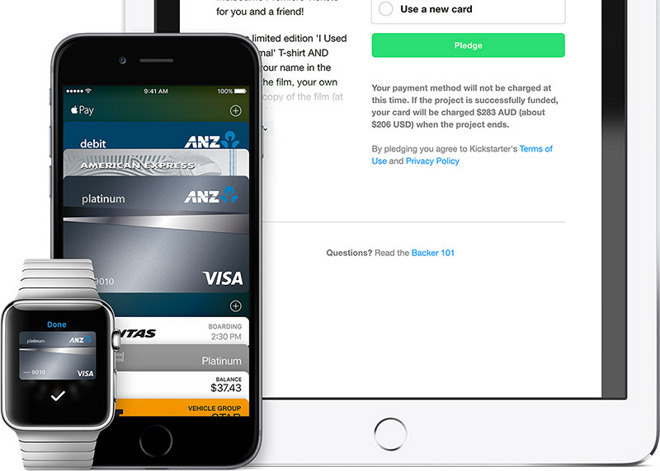 AppleInsider may earn an affiliate commission on purchases made through links on our site.
Rebuking overtures from Australia's big-three banks looking to break in on Apple Pay's success, Apple in a letter to the Australian Competition and Consumer Commission this week said requests for access to iPhone's digital wallet technology would fundamentally undermine the handset's security safeguards.
Apple went further in its three-page letter to the ACCC, likened the three banks — Commonwealth Bank of Australia, National Australia Bank and Westpac Banking Corp — to a cartel that wants to suppress new, potentially disruptive financial market innovations, reports The Australian Financial Review.
In July, Australia's three biggest lenders filed an ACCC application seeking approval to collectively negotiate the installation of third-party digital wallets on iPhones. Currently, Apple restricts touchless NFC payments to its in-house Apple Pay solution, a limitation the company says is meant to protect consumers.
"Apple upholds very high security standards for our customers when they use Apple devices to make payments," Apple said in its statement to the ACCC. "Providing simple access to the NFC antenna by banking applications would fundamentally diminish the high level of security Apple aims to have on our devices."
For their part, the banks claim compatibility with third-party digital wallet software will give consumers choice beyond Apple Pay, adding that Apple's single-source solution amounts to anticompetitive behavior.
Apple's letter asserts much the same, but in reverse.
"Unfortunately, and based on their limited understanding of the offering, the [banks] perceive Apple Pay as a competitive threat," Apple's statement reads. "These banks want to maintain complete control over their customers. The present application is only the latest tactic employed by these competing banks to blunt Apple's entry into the Australian market."
Interestingly, the document was signed by Marg Demmer, a former executive at ANZ Banking Group. In April, ANZ became the first major Australian bank to break rank and ink a deal to bring Apple Pay to its customers, a decision that drove a 20 percent increase in online credit card and deposit account applications.
Apple continues to negotiate with Australia's banks in light of the proposed Apple Pay boycott. Apple said it needs support from the big-three institutions in order to roll out Apple Pay on a "meaningful" basis, but the company appears to be facing an uphill battle.