Redesigned, ultra-thin MacBook Pro with AMD GPU not expected to debut at 'iPhone 7' event Sept. 7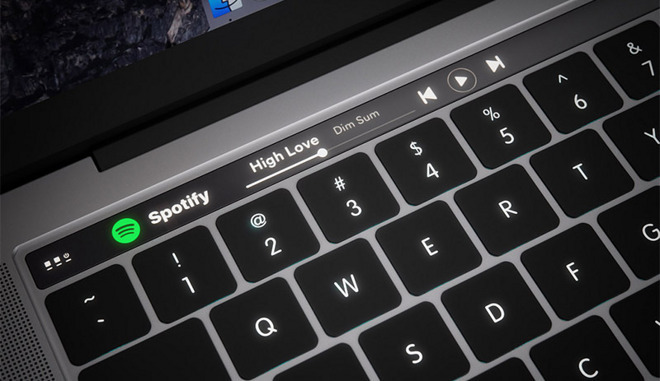 Although Apple is nearing the completion of a redesigned MacBook Pro, it probably won't make its appearance at an "iPhone 7" event expected on Sept. 7, a report said on Wednesday.
The computer has been in "advanced testing" at Apple since earlier in 2016, one of several sources told Bloomberg. The people otherwise reiterated a number of previous claims about the hardware, including the addition of an OLED strip that will display context-sensitive commands, potential examples including playback options for iTunes or cut and paste actions for word processors. Apple should also be able to introduce new buttons via software updates.
More expensive configurations of the new Pro should use AMD Polaris GPUs, chosen because they're thin and power-efficient enough, one source commented. This may be particularly important given an overhauled chassis, said to be both thinner and with a smaller footprint, also using shallower curves along the edges. Despite reduced overall dimensions, its Force Touch trackpad should be somewhat wider.
The company has allegedly considered adding gold and space gray color options, much like the 12-inch MacBook, but these may or may not make it into a shipping product. Apple is however expected to carry over another feature, USB-C. The sources didn't say how many ports might be included.
Apple is lastly said to be bringing Touch ID to the Mac for the first time, having at least tested versions of the Pro equipped with a sensor next to the OLED bar. This would enable fast logins, and might also support Apple Pay purchases without having to have an iPhone or Apple Watch to authenticate them.
While all of these features were previously rumored, the Bloomberg report may reinforce their credibility. If the new Pro isn't revealed in September, it will most likely be announced in October, shipping that month or the next.