Apple partner Foxconn's $3.8B Sharp buyout approved by China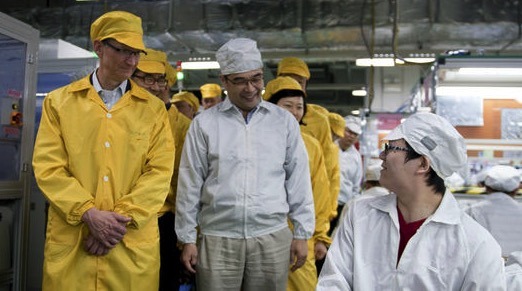 After months of speculation and delays, the Chinese anti-monopoly agency has approved the $3.8 billion merger between Apple manufacturing partner Foxconn and display technology company Sharp.
Sharp currently supplies LCD LTPS displays spanning Apple's hardware on both the iOS and Mac side. The buyout deal will place both screen manufacture and assembly of Apple's products under the aegis of one company. Apple assisted in financing Sharp's Kameyama LCD assembly plant to the tune of 100 billion yen in 2014, and it is unclear what effect that will have, if any, on the ownership of the combined entity.
Foxconn head Terry Gou said in June that in conjunction with the Sharp buy, that the company would be able to crank out OLED screens in quantities in 2017. Foxconn is said to be spending 200 billion yen to help develop its own source of the technology enabled by the Sharp purchase.
OLED screens are currently used in the Apple Watch. A refresh of the MacBook Pro line is said to have an OLED touch-sensitive strip in place of conventional function keys. The 2017 iPhone revision is suspected to migrate to OLED displays, as well as have a all-glass casing fabricated by Foxconn, potentially putting both components of the device in Foxconn's hands.