IDC: Apple Watch loses ground as 'basic' wearables boom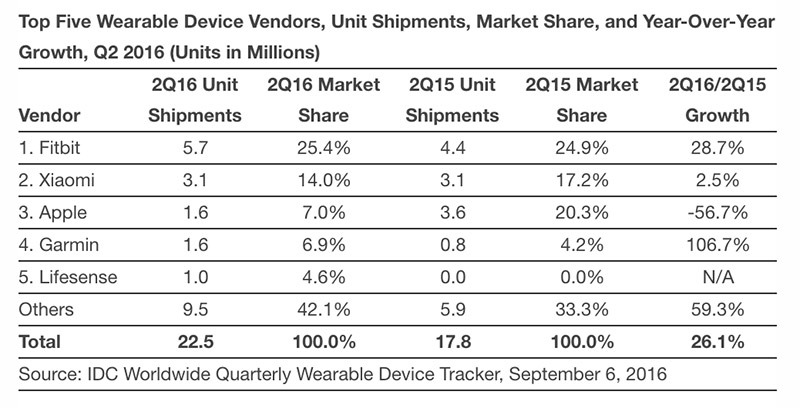 AppleInsider is supported by its audience and may earn commission as an Amazon Associate and affiliate partner on qualifying purchases. These affiliate partnerships do not influence our editorial content.
According to the latest estimates from research firm IDC, Apple Watch shipments are plummeting as sales of "basic" smart wearables that do little more than track fitness metrics continue to grow.
For the second quarter of 2016, Apple Watch saw shipments shrink to an estimated 1.6 million units, down 56.7 percent year over year. By contrast, wearables market leader Fitbit shipped 5.7 million units over the same period, up 28.7 percent.
As a result of the dip in shipments, Apple saw its position among top-five wearable device vendors slip from second to third, with its share of the market dropped precipitously from 20.3 percent in 2015 to only 7 percent in 2016. The dip allowed last year's third-place vendor Xiaomi to usurp Apple with a 14 percent share of the market.
Garmin exhibited the highest growth rate and matched Apple's 1.6 million shipments for the second quarter, up 106.7 percent from the same time last year. Newcomer Lifesense placed fifth on one million units shipped.
The overall wearables market grew 26.1 percent during quarter two.
While IDC's figures tell a tale of doom and gloom for Apple, it should be noted that Apple Watch is a smartwatch, while products marketed by producers like Xiaomi are fitness trackers. IDC acknowledges draws the incongruous comparison, noting basic wearables, or those that do not support third party apps, grew 48.8 percent year-over-year, while smart wearables like Apple Watch and certain Fitbit and Garmin products declined 27.2 percent over the same period.
On a higher level the numbers illustrate Apple's competition in the wearable category as a whole. Smartwatch devices are in a battle for valuable wrist space — users rarely wear a smartwatch on one wrist and a fitness tracker on the other.