Apple launches iOS 10, tvOS 10 & watchOS 3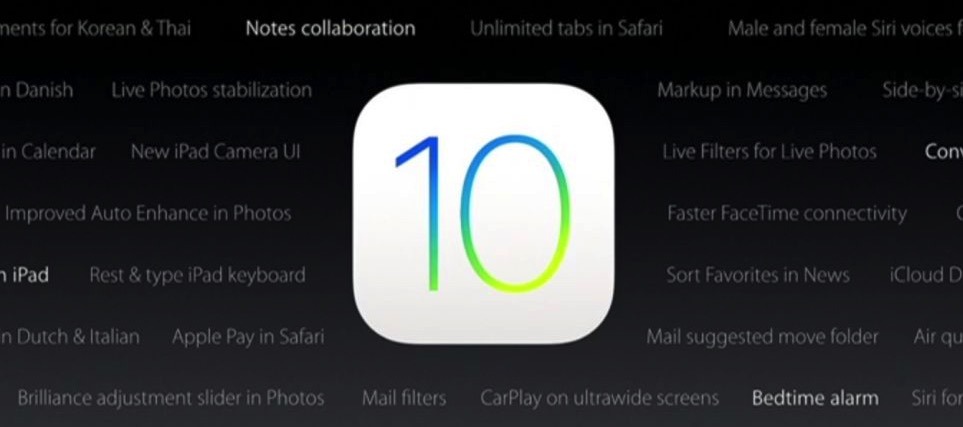 Apple on Tuesday made available iOS 10 for iPads, iPhones, and the iPod touch bringing mass enhancements to messages, Maps, Siri, Photos, Apple Music, News, and more.
The first version of iOS 10, version 10.0.1, can be downloaded free through iTunes or as an over-the-air update through the Software Update function in the iOS Settings app. The update has left some hardware behind, running on the iPod touch sixth generation, iPhone 5, iPad Mini 2, and iPad fourth generation and newer.
iOS 10 features a redesigned Control Center, a new Lock screen, a new widgets screen, implementation of a Siri SDK for developers, a "Home" app for HomeKit, a new Raise to Wake feature, and a redesigned Maps.
Apple Music has been overhauled with a new interface, a "My New Music Mix" feature with 25 tracks a week selected by a user's musical taste, and other refinements.
Messages is vastly improved, and has added a number of emoji-related enhancements, dynamic text bubbles, hooks for developers, and rich links with images automatically integrated into chats.
Apps for iOS 10 started arriving on the App Store on Monday, including apps with hooks into Messages.
Alongside iOS 10, Apple has also made available watchOS 3, and tvOS 10.
Apple's watchOS 3 brings a great deal of battery life enhancements, and speed improvements to the Apple Watch. A user's favorite apps will be kept in memory, background updates will pre-cache data, and apps will launch instantly on the new OS.
Apple is also planning to launch a series of new customizable watch faces in watchOS 3, including a fitness-focused one that presents activity rings in a large size, and a new Minnie Mouse option. watchOS 3 also makes it easier to switch between watch faces with a swipe.
Apple's revision to tvOS brings enhancements to the iPhone remote app, as well as ultimately implementing a unified credentialing process for entering cable subscription data once, with propagation to all the compatible apps simultaneously.
tvOS is downloadable directly from the Apple TV, and is only compatible with the fourth generation Apple TV.
iOS 10.0.1 IPSW files range between 2.17 GB for the iPod Touch, to 2.64 GB for the iPhone 5s. "Over the air" updates are around 1.1GB. The tvOS download is 1.33 GB.
Server load is heavy, and previous releases of Apple's OS suites have been wracked with slow downloads for the first few hours.