First look: Audeze iSine 10 in-ear planar magnetic phones with Apple Lightning connector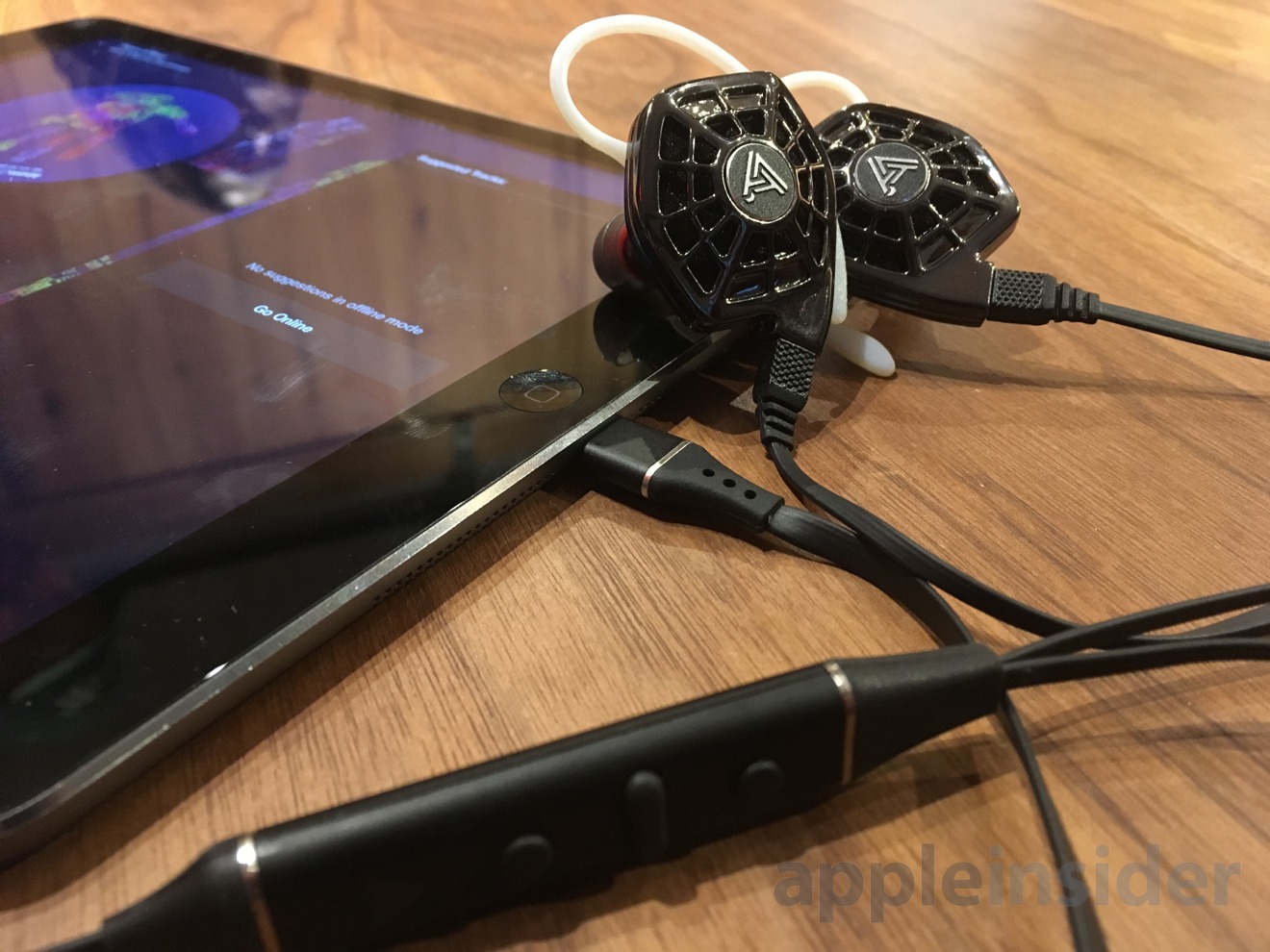 Just in time for the release of the headphone-jack-less iPhone 7, Audeze gave AppleInsider a hands-on sneak peek at their upcoming Lightning-connected iSine headphones, the word's first-ever planar magnetic in-ear buds.
Targeting the premium ultraportable headphone market, Audeze's forthcoming iSine in-ear lineup accomplishes a truly impressive feat: It takes planar magnetic technology, and squeezes it down into a compact form factor that can fit in the palm of your hand, weighing just 20 grams without the cable.
Each earpiece in the wired buds features a 30-millimeter planar magnetic diaphragm. The sound is then funneled down into an in-ear piece, complete with a standard swappable rubber tip that can be chosen to the wearer's liking.
Why planar magnetic? While the technology is less common than, say, dynamic drivers, planar magnetic headphones offer superior sound because of their design.
Audeze's iSine 10 headphones are impressively portable, cramming patented "Fluxor Magnets" inside a lightweight shell that can clip to your ear and easily fit in your pocket.
In a traditional speaker or headphone, the vibrations come from a central point. But planar magnetic design, in simple terms, allows an entire thin diaphragm to move back and forth between magnets, creating a more uniform sound. As noted in our review of Audeze's full-size Sine headphones earlier this year, the high-fidelity audio provided by planar magnetic tech makes a difference.
The use of magnets has traditionally led to rather large planar magnetic headphones. But Audeze has worked to shrink the technology down into its most compact form factor yet.
AppleInsider had the opportunity to sit down for a few minutes with the entry-level $399 iSine 10 lineup in New York at a press event this week, and we came away impressed. While the iSine 10 headphones are larger than your standard earbuds, they're still impressively portable considering the fact that Audeze managed to cram its patented "Fluxor Magnets" inside a lightweight shell that can clip to your ear and easily fit in your pocket.
The iSine 10 listening station was set up with iPads where the headphones connected via Lightning. We also tested the in-ear headphones with our own iPhone SE.
With the proper rubber tip and an around-the-ear clip, we found the iSine 10 to be comfortable and without issue, even with their size. When the iSine headphones ship in October, they will include swappable "Ear Hooks" and "EarLocks," giving users more options for comfort.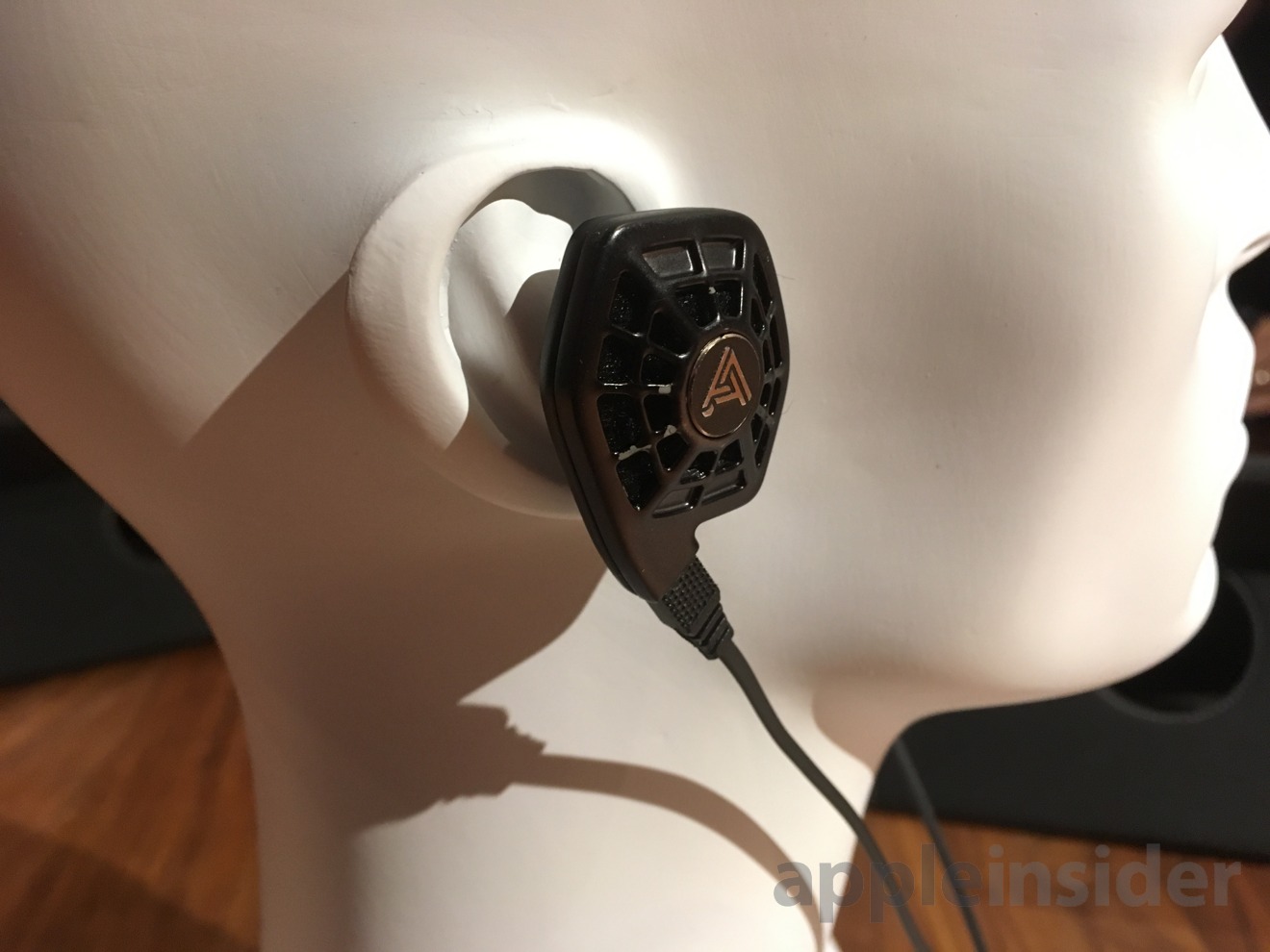 Using just the power from the Lightning jack on our iPhone SE, the iSine 10s were able to get plenty loud. Deep bass — usually a problem for portable earbuds — was particularly noticeable in our short test period without any noticeable distortion, suggesting the iSine 10 boasts an impressive range of sound for such a small package.
Another key component to the iSine lineup is Audeze's "Cipher" 24-bit digital Lightning cable. Inside, it includes an inline amplifier, digital-to-analog converter, and a digital signal processor. It also has physical buttons for volume controls and play/pause.
The processing capabilities of the iSine can be customized with the Audeze iOS app, which we were immediately prompted to install when connecting our iPhone for the first time. The app boasts two pre-sets and a 10-band equalizer that can change in real time.
With onboard memory, the two save-able EQ presets actually travel with the iSine cable when switching devices, meaning you will not need to reinstall the Audeze app to get the sound to your liking if you borrow a friend's iPhone or iPad.
At the Audeze event, we spoke with CEO and co-founder Sankar Thiagasamudram, who was particularly proud to claim that distortion with the iSine lineup is less than 0.1 percent, even at high volume. He said that while the headphone industry is full of unsubstantiated claims, his audiophile-focused company has the data to back up its high-end products.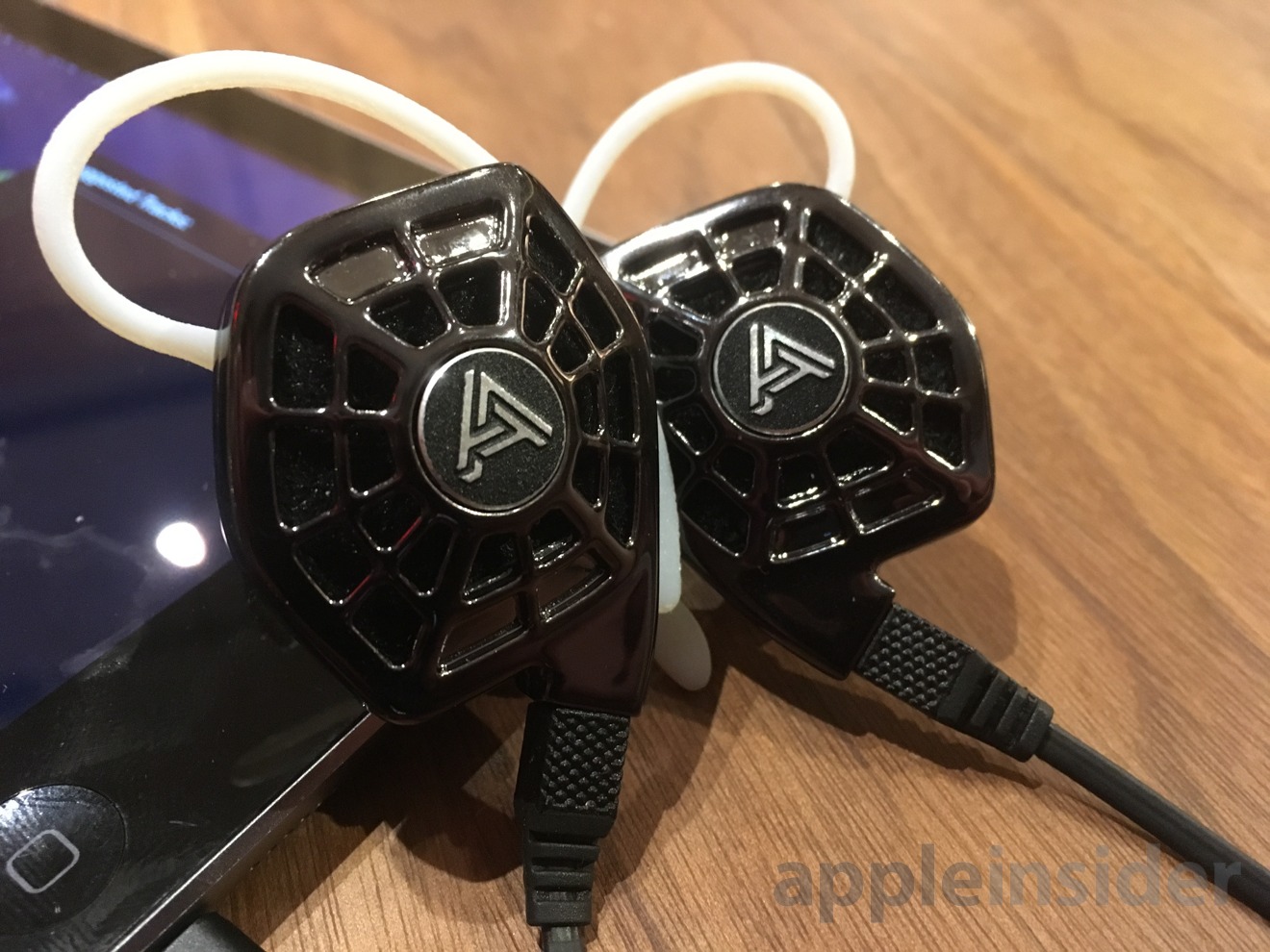 The company's appeal to high-end audio enthusiasts has caught the eye of Apple: As one of the first adopters of the Lightning audio connector, Audeze products are featured at Apple's retail and online stores.
Arriving this October, the Audeze iSine 10 will be priced at $399 with an impedance of 16 ohms. It includes the Lightning cable and standard 3.5-millimeter audio cable.
Audeze will also offer a $599 iSine 20 model, featuring a longer coil and an impedance of 24 ohms, offering higher resolution and detail than the iSine 10.