U.S. urges Samsung Galaxy Note 7 owners to stop use, return after 26 burned, 55 property damage fires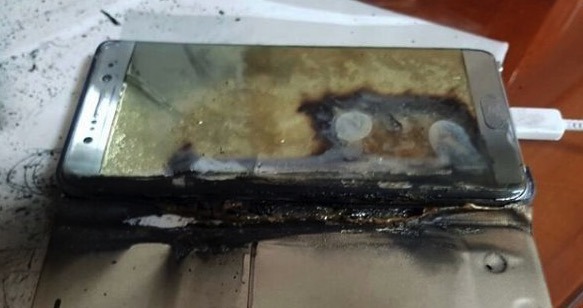 The U.S. Consumer Product Safety Commission today issued an announcement urging anyone using a Samsung Galaxy Note 7 purchased before today to "immediately stop using and power down" the device and seek a replacement or refund, due to the risk of battery overheating and fires.
While Samsung reportedly issued an informal recall of the defective phones two weeks ago, the official CPSC announcement of this recall today triggers Federal U.S. law that "prohibits any person from selling products" involved in a publicly-announced recall.
That obviously includes mobile carriers who until recently were continuing to sell the defective phones they had in inventory.
The CPSC recall means buyers can ask for a refund, or trade in the Galaxy Note 7 on another product. Samsung says plans to have replacement Galaxy Note 7 models by September 27, meaning that buyers will have a week to find another phone or will have to continuing using what they have and hope nothing bad happens.
The same day the company first acknowledged the seriousness of the problem on September 2, Consumer Reports urged Samsung to officially recall its Galaxy Note 7 to prevent the resale of a dangerous product. Samsung spent another 13 days discussing the issue with officials in the U.S., Korea and other countries where it had sold the Galaxy Note 7 with defective batteries.
Roughly 1 million of Galaxy Note 7 phones have been sold in the U.S. and about 2.5 million globally, but according to analytics data compiled by Apteligent, despite an earlier voluntary recall, "usage rate of the phone among existing users has been almost the exact same since the day of the recall," which occured on September 2. The firm noted that only about 15 percent— or 130,000 U.S. devices— had been returned since the problem was first announced.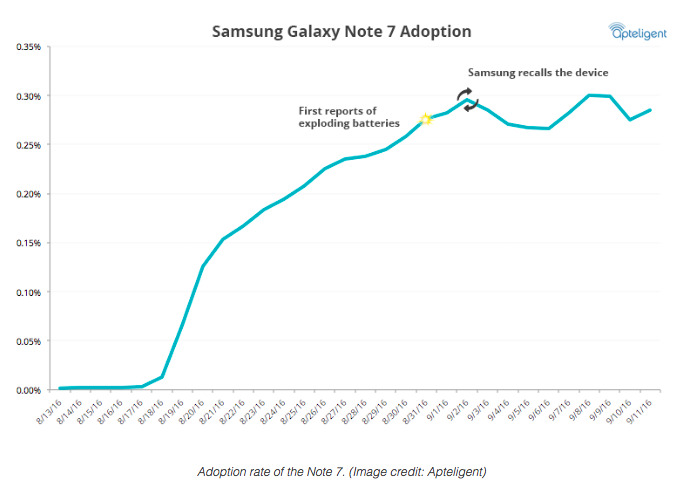 A snapshot of Internet comments posted to Consumer Reports indicates that many people who have a Galaxy Note 7 phone don't understand the risk involved, while others are offering their personal opinions, claiming that most phones probably aren't defective and that nothing really needs to be done about it.
Others expressed concerns about the amount of time they'll waste in dealing with the recall and refund or replacement, or recounting horror stories they encountered in trying to get their device replaced.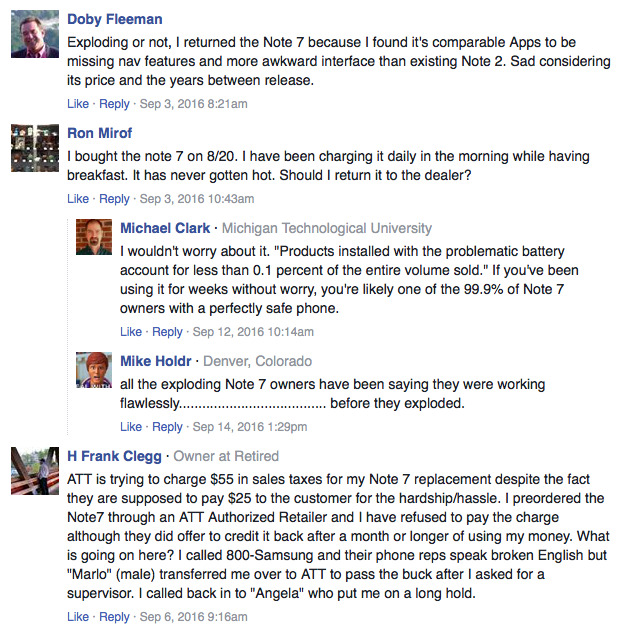 The lack of action taken by Samsung and by its customers has now prompted multiple U.S. government agencies to step in, along with authorities in Canada, Mexico and other countries, to rapidly stop the use of Samsung's defective phones by people who are not equipped to make basic life decisions on their own.
Samsung has reported 92 occurrences of overheating Galaxy Note 7 batteries within in U.S. alone, including 26 that burned people and 55 incidents that caused fire damage to vehicles or to a garage.
Additional fires and burns related to Samsung phones have also been reported, including a Samsung Galaxy Core Prime that burned a six year old boy in Brooklyn, New York. The MTA warned riders not to use or charge Samsung's defective phone on the subway or on its busses.
MTA customers are urged not to use or charge their #Samsung Galaxy Note 7 mobile device on trains and buses.

— MTA (@MTA) September 13, 2016
A report by the Wall Street Journal cited U.S. officials as saying that Samsung "appears to have exacerbated the situation in the way it has communicated with regulators and consumers," initially offering "conflicting information."
The report scolded Samsung's "apparent failure at the outset to coordinate efforts with U.S. safety authorities."
Last week, the U.S. Federal Aviation Administration issued a warning to airlines about the fire hazard posed by Samsung's phones, resulting in warnings prior to takeoff that urged passengers to completely power off Samsung phones and not to attempt to charge them during their flight.
Today, the Associated Press reported that Department of Transportation began "ordering airline passengers not to bring Samsung Galaxy Note 7 phones on planes unless they keep them turned off and don't charge them during the flight."
The instructions also forbid users from shipping the Samsung devices in checked luggage, where a fire would have even more serious consequences than within the cabin. Transportation Secretary Anthony Foxx issued a statement requiring anyone traveling with a recalled Samsung device to "take precautions to ensure its safe handling."