Big shift: demand for dual-camera iPhone 7 Plus surges past standard iPhone 7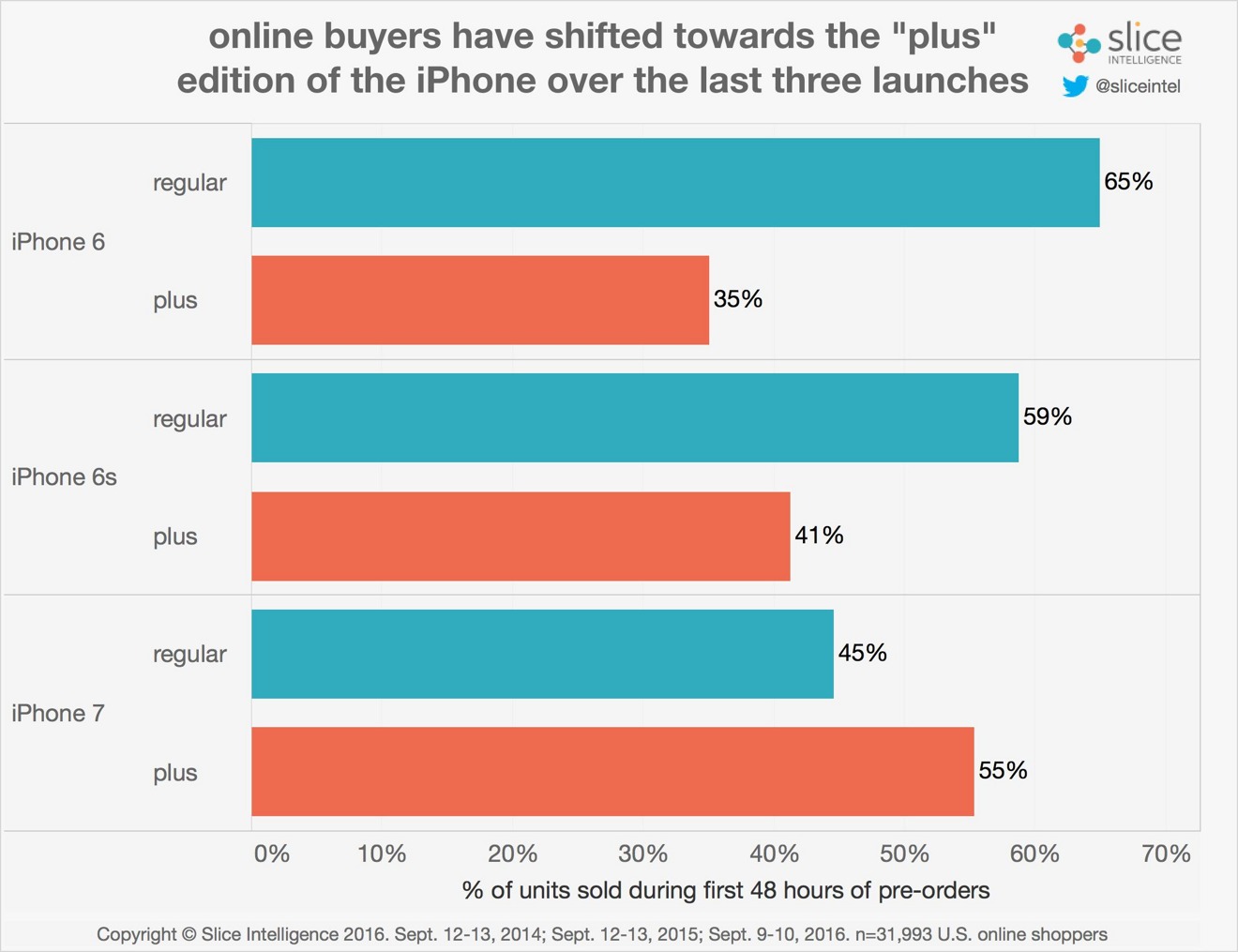 AppleInsider is supported by its audience and may earn commission as an Amazon Associate and affiliate partner on qualifying purchases. These affiliate partnerships do not influence our editorial content.
For the first time ever, order demand among early iPhone buyers has decisively shifted to Apple's Plus-sized model compared to the standard 4.7 inch version. If sustained, a shift to the higher-end would mean even greater profits for Apple, which is already basking in reports of enthusiastic demand for its latest and greatest iPhone.
An apparent trend toward big
As noted in analytics compiled by Slice Intelligence, the model breakdown among Apple's original pairing of a standard 4.7 inch and larger 5.5 inch Plus during the 2014 iPhone 6 launch favored the standard model in a ratio of 65 to 35.
The next year, that ratio shifted slightly in favor of the larger iPhone 6s Plus, with 59 percent ordering the standard and 41 percent opting for a 6s Plus.
This year, that apparent trend toward larger phones has continued, but has both accelerated and created a new frontrunner: the 7 Plus currently accounts for a leading 55 percent of orders, compared to only 45 percent getting a standard.
Not just bigger, better: the dual camera iPhone 7 Plus
In addition to what appears to be a steady, incremental adoption of larger models, demand for the iPhone 7 Plus is also no doubt nudged up by its exclusive introduction of a dual camera system that enables users to shoot in both a standard wide angle as well as with a zoom feature and a novel mode for capturing dramatic portraits.
Both iPhone 7 models incorporate a variety of other camera enhancements, from a higher resolution front facing FaceTime camera to a rear shooter with a larger aperture and bigger pixels for better capturing detail in poorly lit settings, a particular weakness among mobile cameras.
However, the new dual camera system appears to offer much greater differentiation between the 7 and 7 Plus compared to the previous iPhone 6 and 6s launches, where the only major difference between the two models (apart from size and screen resolution) was that the Plus version sported Optical Image Stabilization.
The improvement offered by OIS— which intends to steady out hand movement, allowing the camera lens to capture more light without being blurred by camera movements— didn't translate into an obvious, ubiquitously usable new feature the way that the 7 Plus' second telephoto lens and sensor does.
Is iPhone SE shifting the demand ratio?
On the other hand, the rapid shift toward Plus sizes among earlier orders this year may also be related to the introduction of iPhone SE, an even smaller 4 inch phone that carries forward the classic, compact iPhone 5 body with an internal overhaul that gave it iPhone 6/6s specification in processing and camera capabilities.
If a significant number of standard sized iPhone 6 users made a move to the even smaller SE in a vote of support for smaller, more portable iPhones, the remaining statistics for iPhone 7 preorders would naturally shift upward, exaggerating the increase in demand for largest largest iPhone model available.
Slice comparison data is based on orders placed in the first two days of an iPhone launch, which would help to capture early adopters who are enthralled with the latest products and most likely to spend liberally to obtain the best new gear and be among the first to make use of it.
Going forward, demand for the higher-end 6 Plus could certainly return to parity with (or slip behind) the volume of users who buy a basic standard 7. However, just comparing the launch data with previous years makes a compelling case for the extra investment Apple pushed into the 7 Plus this year, to entice premium buyers to upgrade and premium customers of Apple's rivals to switch.
Bad news for competitors, detractors
It's of particular benefit to Apple that Samsung's current product recall issues are not affecting its low-end products but are instead laser focused on the company's most expensive, most profitable and highest-end flagship "phablet." And not only is the Note 7 being recalled due to extreme fire risk, but Samsung currently lacks any production inventory to immediately replace them.
That means Samsung will either have to downgrade recall users to the smaller Galaxy S7 and refund the higher price premium, or it will have to issue full refunds that will likely help accelerate switchers to iOS. The longer this issue drags out, the worse it will be for Samsung's brand image.
The other good news for Apple is how much the enthusiastic demand for iPhone 7 models is completely humiliating the pundits and tech industry journalists who have been stridently insisting all year long that demand for high end phones was drying up and blowing away, and that Apple lacked any tricks up its sleeves for attracting new buyers to its latest products.
Across the tech media, various journalists have conspired to invent the narrative of a boring iPhone 7, lacking any factual basis, and then repeated it until the message was broadly believed to be true.