Apple to debut 'Spoken Editions' iTunes category, turn written news into audio podcasts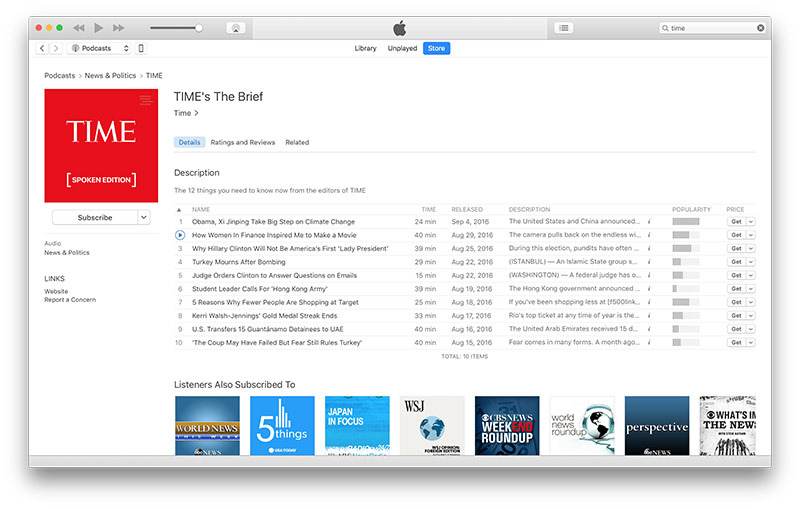 AppleInsider is supported by its audience and may earn commission as an Amazon Associate and affiliate partner on qualifying purchases. These affiliate partnerships do not influence our editorial content.
According to a report on Friday, Apple is preparing to launch a new iTunes category which features audio podcast content transformed from articles, stories and other written word content from major publications.
Spotted by TechCrunch, a number of podcasts labeled "Spoken Edition" recently popped up in iTunes' Podcasts section. The upcoming format might best be described as audiobooks for news, as the short segments for the most part appear to be easily digestible audio versions of recently published content.
Scouring through podcasts offerings from big-name publications revealed Spoken Edition content from Wired, TIME, Forbes, .Mic, Bustle, Playboy, OZY and TechCrunch, the report said. Links to the respective episodes have since been pulled, suggesting the feature is on the verge of release.
Helping bring at least some Spoken Editions content to iTunes is SpokenLayer, a specialist in transforming text into monetizable streaming audio and podcast content. Though the company's name showed up in multiple Spoken Edition podcast descriptions, SpokenLayer is most likely working with individual publishers on the project, not as an official Apple partner. For example, at the top of TIME's latest edition of "The Brief" — whose podcast icon still bears a "Spoken Edition" graphic — a plug notes the day's episode is "brought to you by SpokenLayer."
As described on the company's website, the SpokenLayer workflow automatically ingests client text, sends it out to a distributed network of voice talent and prepares the resulting audio for playback on a variety of platforms and streaming networks. The process allows customers to monetize their product with advertisements and sponsorships, as well as monitor engagement through tracked listening metrics.
While an exact launch timeline has yet to be announced, TechCrunch expects Spoken Editions to hit iTunes in early October.