Apple celebrates grand opening of first retail store in Mexico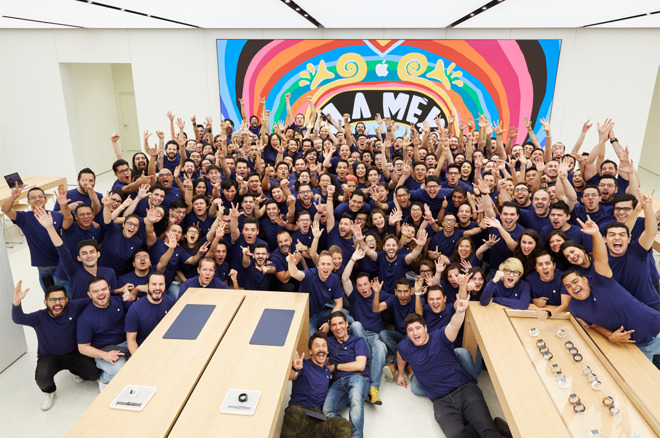 AppleInsider may earn an affiliate commission on purchases made through links on our site.
Apple on Saturday opened the doors to thousands of waiting customers at its first brick-and-mortar retail store in Mexico, the first step in a planned expansion into the burgeoning Latin American smartphone market.
Along with photos of the grand opening shared in a published press release, Apple CEO Tim Cook celebrated the event on Twitter, saying, "¡Gracias México por recibirnos!" or "Thanks for welcoming us, Mexico!"
Customers eager to be one of the first to enter Apple's first official Mexican store began lining up outside the Via Santa Fe wing of Via Centro Santa Fe mall at 7 p.m. on Friday night. To drum up excitement for the launch, the company invited customers to the store in an email campaign on Wednesday.
As noted by AppleInsider reader Alvaro, a colorful image accompanying the invitation drew inspiration from decorations adorning mariachi boats floating along the Xochimilco canals in southern Mexico City. That same image can be seen above, displayed on the massive 37-foot, custom-built TV screen that sits as the centerpiece at Apple Via Santa Fe.
Taking cues from Apple's "next generation" retail design language, the Mexico City store also features a Genius Bar, custom wooden cabinetry for accessories, iconic wooden display tables and space for in-store classes. Construction of the outlet began in July and resulted in a storefront roughly three times larger than Via Santa Fe's usual boutiques.
Apple Via Santa Fe is the first phase of an aggressive push into Latin America, sources told AppleInsider in January. At least two stores are planned for Mexico City, one being a "global flagship," along with satellite locations in Guadalajara and Monterrey. Beyond Mexico, the company is working to expand into nearby countries Argentina, Chile and Peru, sources said.