Last call! iPhone trade-in deal: $10 cash bonus when you sell your old iPhone 6/s/Plus to Gazelle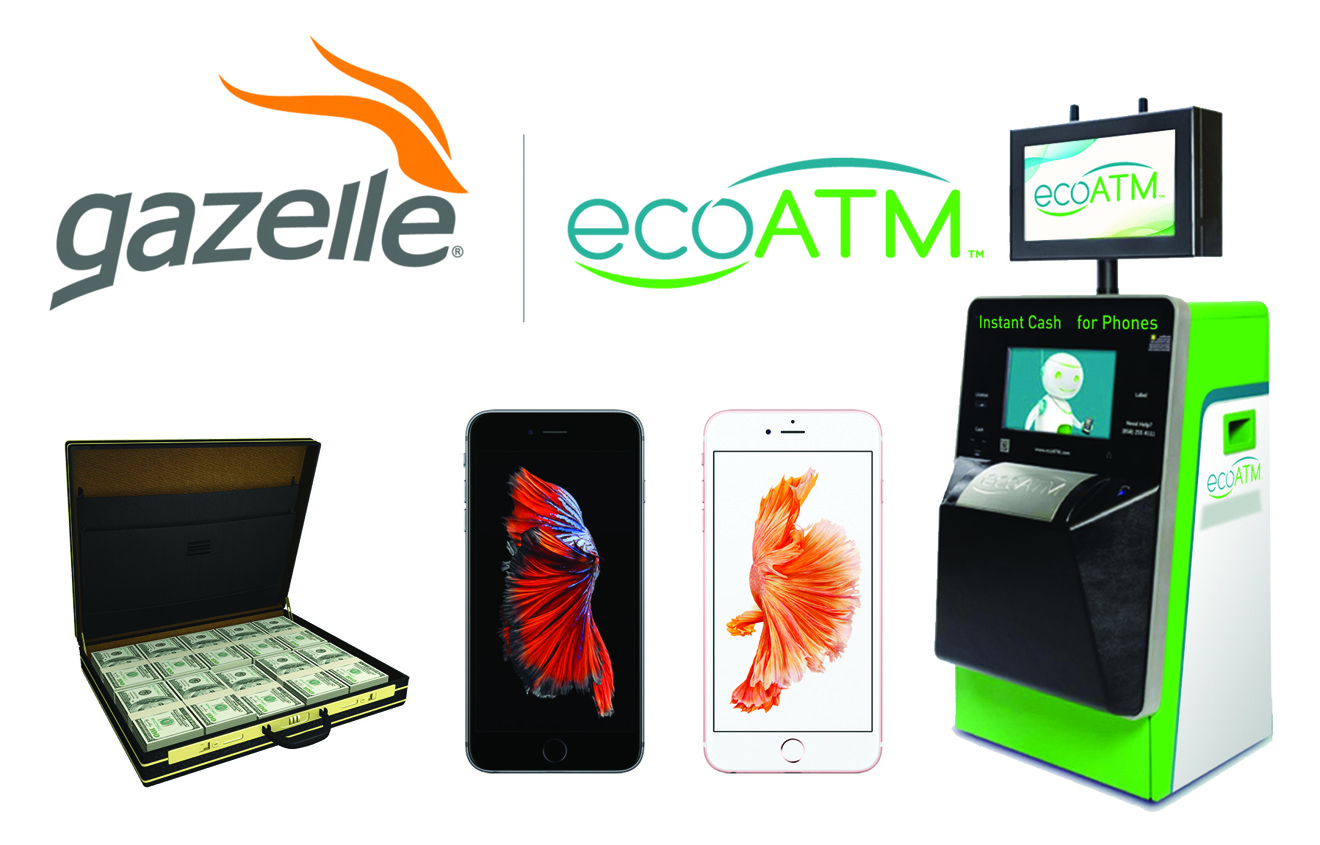 Now through Oct. 9, AppleInsider readers can get up to $325 in cash and score a $10 bonus on select iPhone 6, 6 Plus, 6s and 6s Plus trade-ins. What's more, if you prefer to get a cash payout right now, visit an ecoATM kiosk and activate the bonus immediately with an exclusive promo code.
$10 cash bonus on select iPhone trade-ins at Gazelle
Gazelle, a well-known name in the buyback arena, is exclusively offering AppleInsider readers a $10 cash bonus on top of fast cash payouts for iPhone 6, 6 Plus, 6s and 6s Plus trade-ins valued at $100 or more. To activate the bonus at Gazelle, which is valid through Oct. 9, use this link prior to answering a few questions about the condition of your device on Gazelle's site. Upon locking in a trade-in value, you'll have 30 days to drop your device in the mail using a Gazelle pre-paid shipping label.
Current cash payouts with $10 bonus for eligible iPhone trade-ins valued at $100 or more
* Must activate the $10 bonus by clicking through the links above.
As always, if you have any issues, you can reach out to us at [email protected] and we'll try and help.
Prefer to get cash immediately for your old iPhone at an ecoATM?

The exclusive $10 bonus offer also extends to Gazelle's partner, ecoATM, which operates kiosks across the nation. In fact, users can lock in a price at an ecoATM and receive a cash payout instantly. In order to take advantage of the $10 bonus at a kiosk in person, the instructions are slightly different and require promo code INSIDER.
Steps to secure a $10 cash bonus at an ecoATM
Step 2: At the kiosk, you'll be prompted to enter a promo code at the point where you receive a trade-in value offer. Please note, the $10 cash bonus applies to select iPhone models (6, 6s, 6 Plus, 6s Plus) that are valued at $100 or more. If your device does not qualify for the promo, you will not see a promo code field.
Step 3: In the promo code field, enter INSIDER to secure a $10 cash bonus.
Step 4: Proceed with the necessary steps on the kiosk screen to continue the trade-in process.
Please note: ecoATM prices are independent of Gazelle's and change daily, so trade-in values may differ.
How to trade in your iPhone for cash in minutes at Gazelle
Step 1: To begin the process of trading in your iPhone at Gazelle, identify your current iPhone from Gazelle's website (by selecting your model, carrier and capacity) and then quickly assess its condition — broken, good, or flawless. Gazelle will then provide you with an immediate cash offer quote. Click the orange "Get Paid" button to continue with the process to lock in the trade-in value for up to 30 days.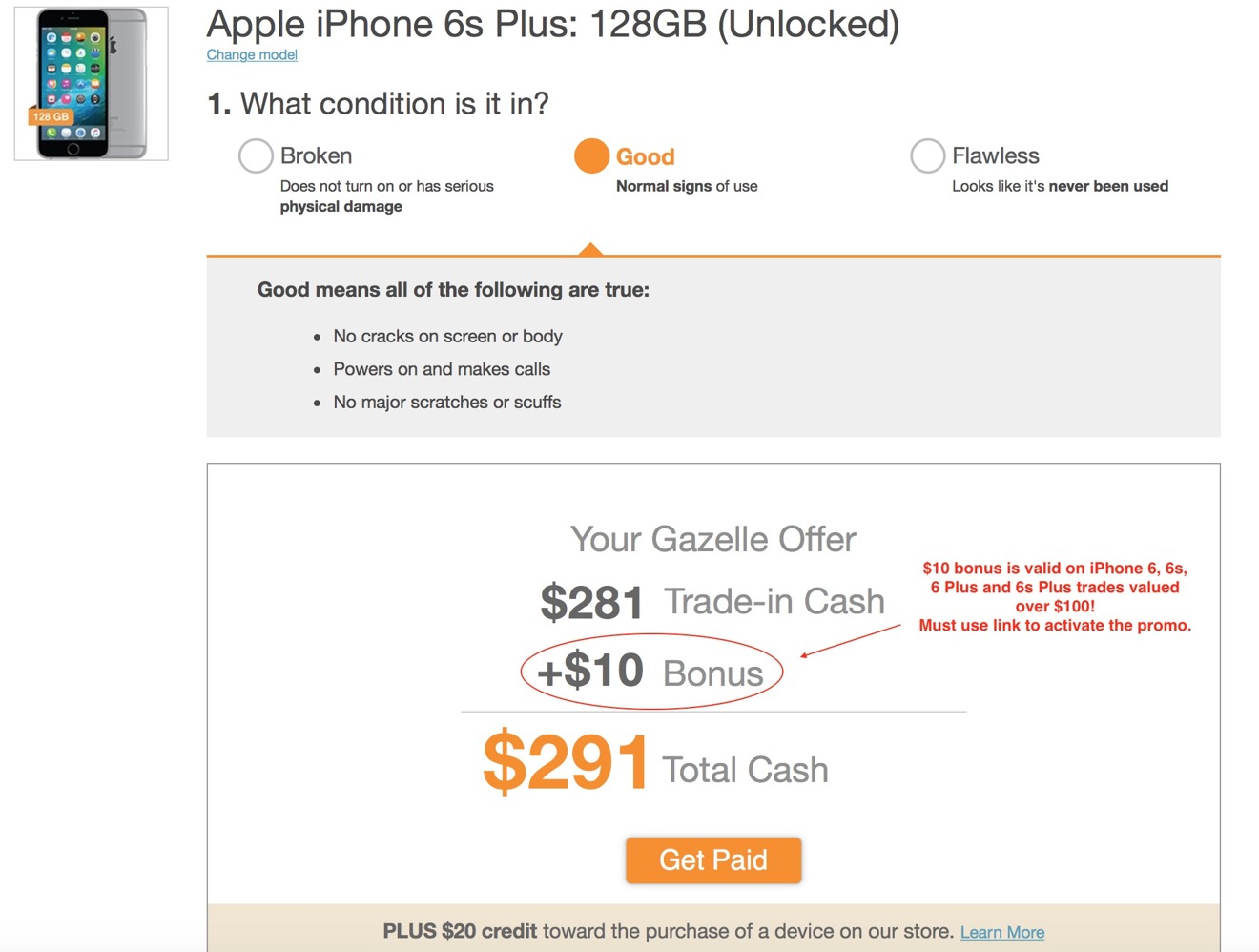 Step 2: You'll then be asked to log in to your Gazelle account (if you have one) or quickly create one (with just an email, name & password). You can then select how you prefer to be paid: by PayPal, check, or in the form of an Amazon Gift Card (receive an extra 5% with this method). Alternatively, you can donate the proceeds from the sale of your iPhone to a charity of your choice.

Step 3: Gazelle will then ask for your address so it can send you a pre-paid shipping box (for small electronics with a trade-in value of $30 or more) that you can use to send in your iPhone when you're ready. Alternatively, you can choose to have Gazelle email you a pre-paid shipping label and you can affix it to your own box.
Step 4: Within days, the pre-paid shipping box will show up at your doorstep. Simply place your old device in the box within 30 days and send it off to Gazelle. (You don't need to send in any cords or power plugs, just the device itself.)
">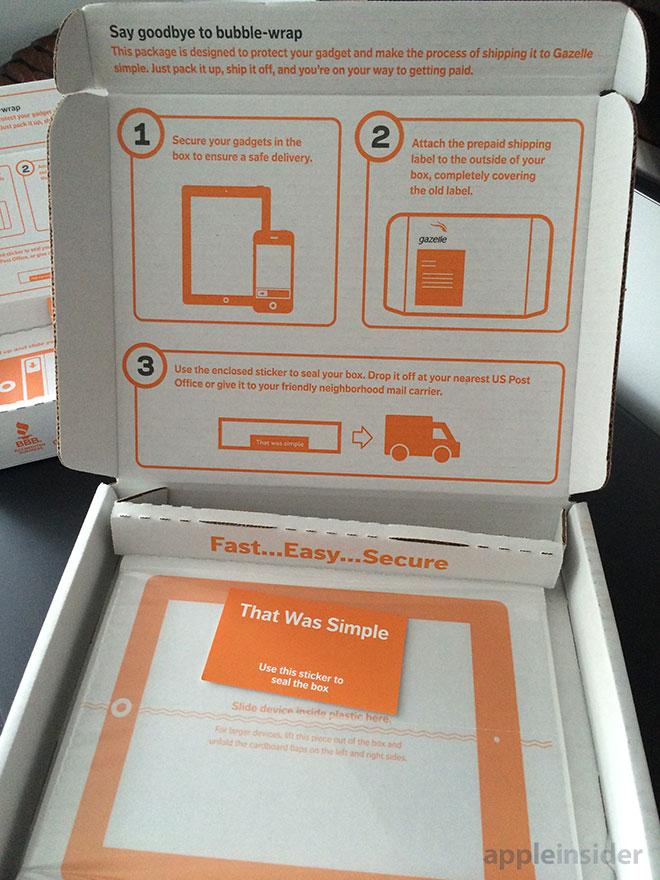 Once your device is received, Gazelle will completely wipe the personal data off your phone (if you haven't already) and then return it to its original factory settings. It will then pay you via Paypal, email (for an Amazon Gift Card), or issue a check for the cash value of the device you lock in today.
Using a buyback service like Gazelle in recent years has become an increasingly popular way for consumers to afford upgrading each year to Apple's latest smartphone by offsetting the cost of those new devices with the cash they make from selling their old iPhones during peak buyback season.
Additional Apple Deals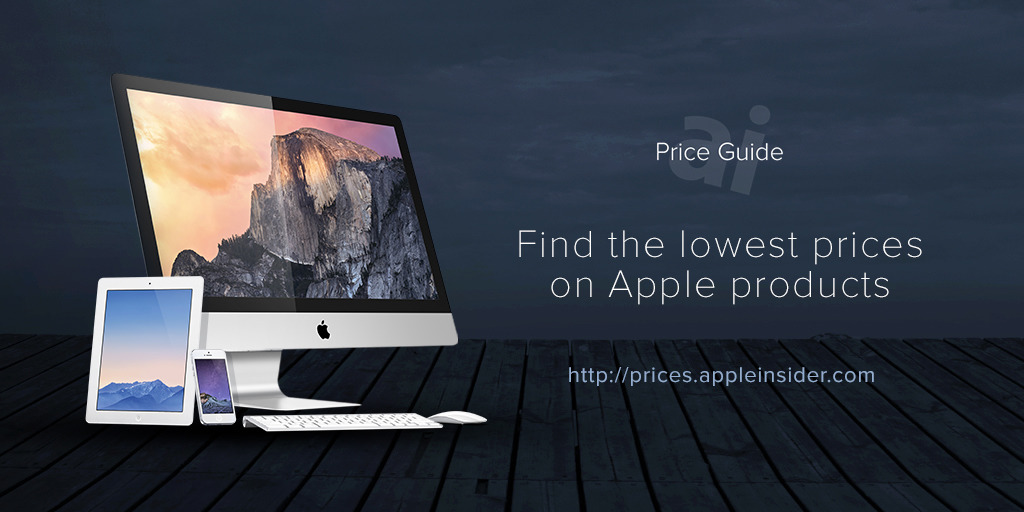 AppleInsider and Apple authorized resellers are also running a handful of additional exclusive promotions this month on Apple hardware that will not only deliver the lowest prices on many of the items, but also throw in free gifts like Parallels 12 or a SuperDrive. These deals are as follows: