Apple Watch is most precise wrist-worn heart rate tracker at 90% accuracy, study says [u]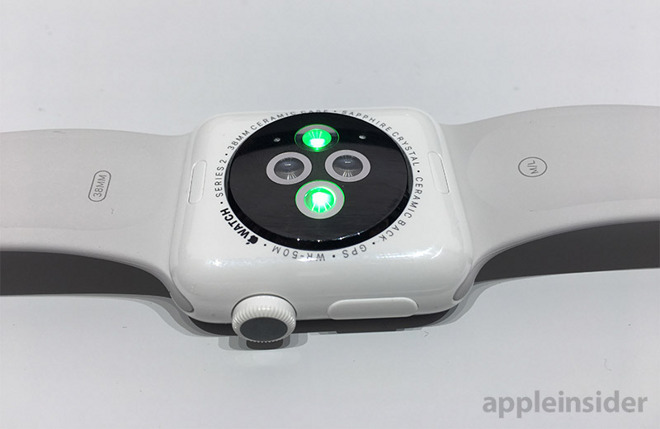 It appears Apple's bet to pack a bespoke heart rate sensor into Apple Watch instead of off-the-shelf technology paid off, as Cleveland Clinic researchers recently found the wearable to be the most accurate wrist-worn fitness tracker on the market.
The study, which pitted Apple Watch against competitors Fitbit Charge HR, Mio Alpha and Basis Peak, found significant discrepancies between the variance between the consumer devices, reports Time.
Testing involved 50 subjects who were hooked up to an electrocardiogram while walking, running and at rest. Results were compared to to heart rate data from the consumer devices, with Apple Watch showing a 90 percent accuracy rate in most scenarios. The others dropped into the "low 80s," according to Dr. Gordon Blackburn, director of cardiac rehabilitation at Cleveland Clinic.
An unnamed consumer level chest strap monitor, presumably similar to those sold by Polar, was also tested and found to be 99 percent accurate.
"What we really noticed was all of the devices did not a bad job at rest for being accurate for their heart rate, but as the activity intensity went up, we saw more and more variability," Blackburn said. "At the higher levels of activity, some of the wrist technology was not accurate at all."
It is unclear whether Apple Watch accuracy diminished during rigorous exercise, and to what extent, though it is common for wrist-mounted monitors to suffer signal degradation during extreme movement. Since wearables rely on optical sensors to measure blood flow at a single point on the body, accurate tracking becomes a problem when the device shifts or lifts off from the skin.
Apple detailed how its in-house heart rate sensor prevents data anomalies caused by user motion in a recently published patent application. Apple's heart rate sensor is based on existing photoplethysmogram (PPG) technology, which employs a light emitter and sensor array to measure blood perfusion to the skin. With Apple Watch, signal data from at least two light guides are compared and contrasted using special software algorithms to correctly compensate for physiological changes (vasculature expansion and contraction) and device motion.
Even with a highly advanced sensor solution, Apple Watch is still positioned as a consumer device. Rumor has it that Apple is looking to push deeper into the health and medical industries with Apple Watch and its supporting ecosystem of apps. A first step might be providing healthcare professionals with rich data gleaned by HealthKit, a move hinted at by Apple's purchase of digital health records firm Gliimpse.
Most recently, a report in September claimed Apple is working on two new apps for Apple Watch, one for accurately tracking sleep patterns and another that measures heart rate recovery.
Update: In a response to Cleveland Clinic's study received by AppleInsider, Fitbit says extensive internal testing involving more than 60 subjects shows the company's PurePulse technology boasts an average absolute error of less than 6 beats per minute and an average error of less than 6 percent. The performance is up to industry standard expectations, Fitbit says.
"Fitbit is committed to making the best activity trackers on the market for consumers who want information to make informed decisions about their health and fitness, and we stand behind our heart tracking technology," a Fitbit spokesperson said. "Fitbit trackers are not intended to be medical devices. Unlike chest straps, wrist-based trackers fit comfortably into everyday life, providing continuous heart rate for up to several days without recharging (vs. a couple hours at a time) to give a much more informative picture of overall health and fitness trends."