'Hello again:' Apple sends invitations for event on Oct. 27, new MacBook Pros expected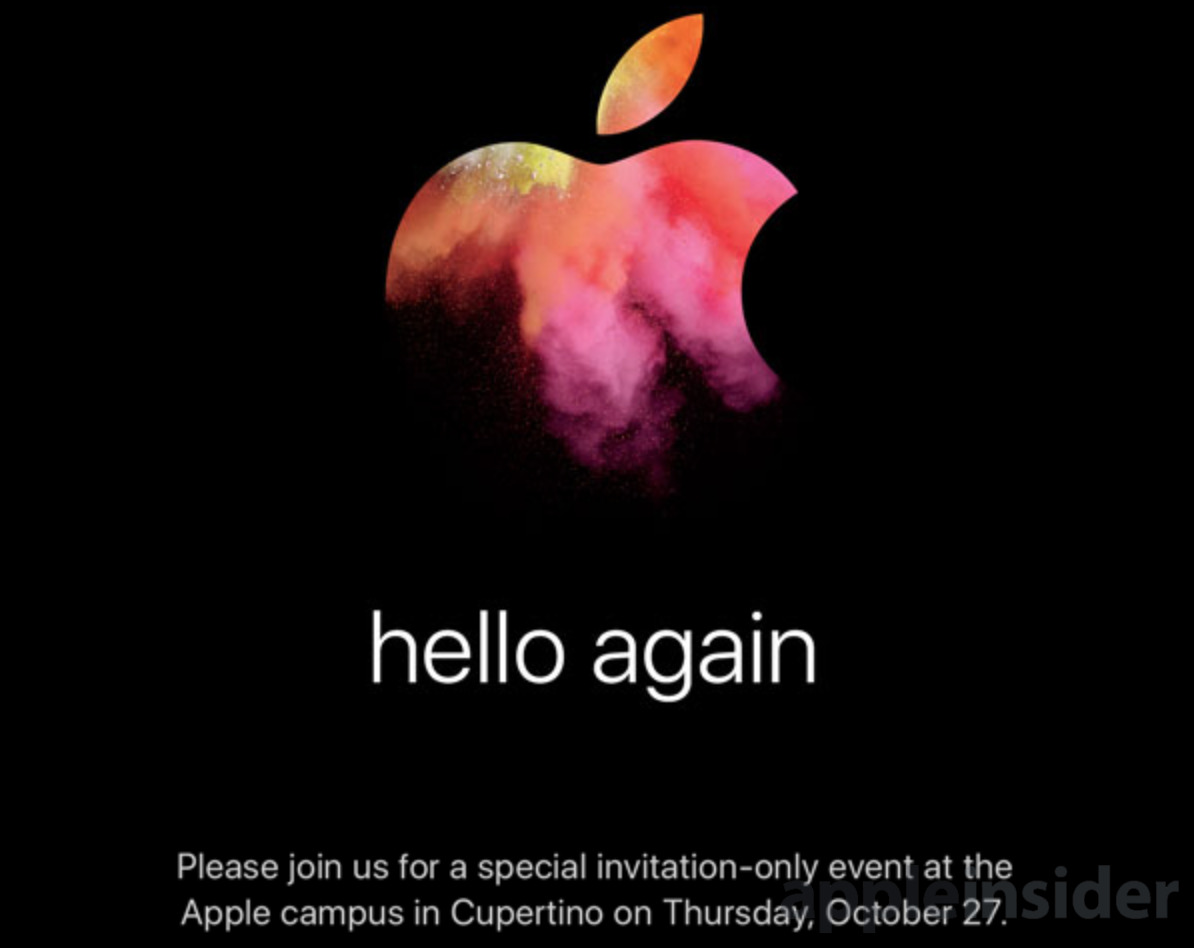 Apple on Wednesday issued invitations to members of the press for an event at its Cupertino, Calif., headquarters on Oct. 27, where it is expected to unveil a thinner MacBook Pro with OLED touch bar and reversible USB-C ports.
Next Thursday's presentation is expected to be headlined by the revamped MacBook Pro, which comes in both 13- and 15-inch varieties. Also rumored to see a refresh is the 13-inch MacBook Air, though changes to that notebook are not expected to be as significant, as Apple continues to push its more diminutive 12-inch MacBook.
The Oct. 27 event will be held at Apple's corporate headquarters at 1 Infinite Loop. Given that the new "spaceship" Campus 2 is scheduled to open in early 2017, it's likely that next week's Mac-centric event will be the last media presentation held at the current HQ.
The invitations issued Wednesday confirm an earlier rumor suggesting Apple was set to hold an event to take the wraps off of its latest MacBook Pro design.
The biggest change for the professional-grade notebook is believed to be a new dynamic OLED touch bar, which will replace the top row of function keys, allowing for dynamically adjustable input options based on the user's current task or application. Trademark filings suggest the feature could be called a "Control Strip."
Also rumored is the addition of Touch ID to the Mac for the first time. Integrating a Touch ID fingerprint sensor into the MacBook Pro would allow for secure user logins, as well as authorizing transactions through the Apple Pay service in apps and Safari.
Finally, the MacBook Pro is also believed to sport reversible USB-C ports, ditching legacy input methods like USB-A, HDMI, and the SD Card reader. rumors have also claimed that USB-C will be used for charging, replacing MagSafe.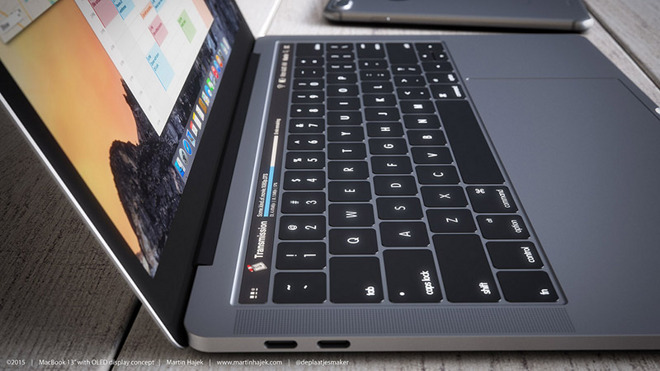 The 13-inch MacBook Air is also due for an update, though it's unclear how significantly Apple may be inclined to change its design or add new features, considering the 12-inch MacBook with Retina display is now its flagship thin-and-light Mac. Reports have indicated that the 11-inch MacBook Air, meanwhile, will not be updated.
New machines are likely to be powered by Intel's latest-generation Skylake processors and integrated graphics. Dedicated graphics from AMD would likely be limited to high-end 15-inch models, as is currently the case.
It's unclear what, if anything, Apple plans to do with the rest of its Macs, as every other machine in the company's traditional computing lineup is due for an update. It has also been rumored that Apple is preparing a Thunderbolt Retina 5K display with its own separate integrated graphics card, potentially allowing MacBooks to have more pixel pushing power when docked. No reports, however, have indicated that the release of such a display or any other accessories are imminent.