Google Maps gets food delivery, plus code integration in update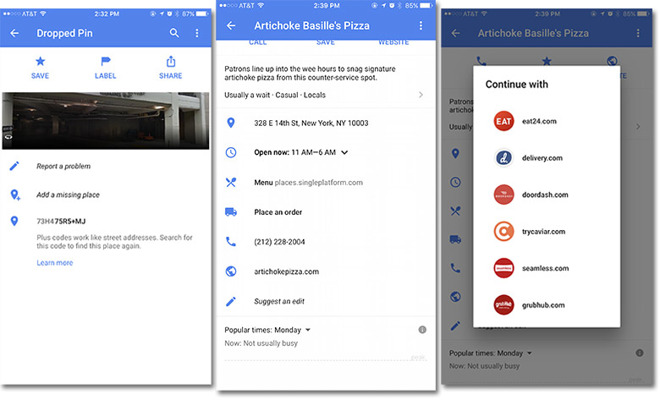 AppleInsider may earn an affiliate commission on purchases made through links on our site.
Google on Monday updated its flagship mapping app for iOS with a few new features, including integration with food delivery services like Seamless and Grubhub, as well as the ability to generate plus codes by dropping a pin.
With Google Maps for iOS version 4.24.0, users can place takeout and delivery orders from local restaurants using a number of popular on-demand food services.
Food order integration is accessed through the app's Explore feature, which surfaces nearby eateries serving breakfast, lunch, coffee, dinner and drinks. Drilling down into subcategories like "Best lunches" and "Cheap eats" reveals individual restaurants on a map of the surrounding area, complete with cards detailing ratings, hours, prices and more. If available, food ordering and delivery will appear as "Place an order" on a restaurant's info card.
In addition to new Explore features, Google Maps generates plus codes — a location identifier similar to standard latitude and longitude readings — when placing a pin with a tap-and-hold gesture. Located at the bottom of every Dropped Pin card, plus codes pinpoint specific locations on a map without need for street addresses or landmarks. Tapping on the generated plus code automatically copies it to the iOS clipboard for easy sharing.
Finally, today's Google Maps for iOS update streamlines the process of taking and adding photos of marked locations. An "Add a photo" button now appears below a place's existing photos, allowing users to take a picture or upload an image from their photo library.