New Chicago Apple store comes with massive $62M price tag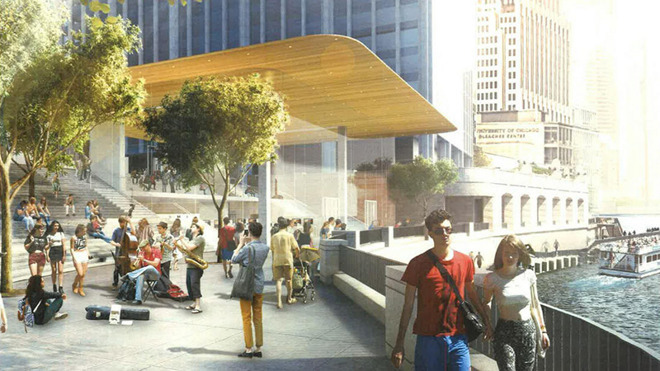 AppleInsider may earn an affiliate commission on purchases made through links on our site.
Apple plans to spend $62 million on a retail outlet currently under construction in Chicago's North Michigan Avenue shopping district, according to a construction permit issued by the city's planning department on Friday.
Featuring a wide-open design boasting a prodigious amount of glass, construction on the retail outlet is already well underway on Chicago River's north bank, the Chicago Tribune reported on Monday. Work at the site has been ongoing for some time, but the construction permit granted last week gives Apple the go-ahead to complete the build, the report said, citing city officials.
At $63 million, the forthcoming retail shrine is shaping up to be one of Apple's most expensive U.S. undertakings to date. By comparison, construction of the Union Square flagship in San Francisco, which required the demolition of a pre-existing building, was at one point estimated to cost some $23.6 million.
When completed, the Chicago Apple store will become a 20,000-square-foot anchor of the city's North Michigan Avenue shopping district. Architectural renderings unveiled in November call for a free-standing, glass-walled entry pavilion located at street-level with two grand staircases and an elevator leading down to a similarly glass-clad sales floor located just off the riverwalk.
While not confirmed, the Chicago store was supposedly designed by award winning architect Norman Foster of Foster + Partners. Along with other international Apple store flagships, the architecture firm was hand picked by late Apple cofounder Steve Jobs to dream up the company's iconic Campus 2 headquarters in Cupertino.
As can be expected, plans for Chicago include an abundance of luxurious materials, including a carbon fiber roof on the entry foyer and glass-infused structural elements bolstering the the main riverside edifice.
Neither Apple nor property owner Zeller Realty Group have provided a construction timeline for the North Michigan Avenue outlet.