New Chicago Apple Store to be a riverside glass 'temple,' report says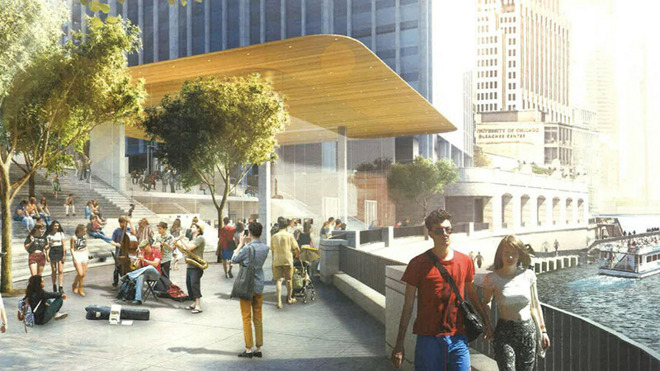 AppleInsider may earn an affiliate commission on purchases made through links on our site.
A report on Tuesday offered the first glimpse at what is thought to be Apple's upcoming Chicago Apple Store, with renderings showing an open, glass-encased pavilion type structure appropriately modeled to the company's new architectural design language.
A city government source informed the Chicago Tribune of Apple's upcoming retail plans, which are expected to manifest in a 20,000-square-foot highlight of the city's North Michigan Avenue shopping district. After seeing plans from Chicago's Department of Planning and Development, the report describes Apple's forthcoming store as a "glass-sheathed temple of computing," that stands on the Chicago River's north bank.
While the architectural renderings are not officially assigned to any one company, the structure shares obvious similarities with existing Apple Stores. For example, a main entry pavilion mirrors the glass-walled and flat-roofed "Stanford 2" store in California, while the building's two central supports are reminiscent of Apple's future San Francisco flagship.
When completed, the building will feature a street-level foyer that flows down to a sales floor just off the riverwalk. Customers will have access to two grand staircases, again like Apple's San Francisco location, or travel by elevator.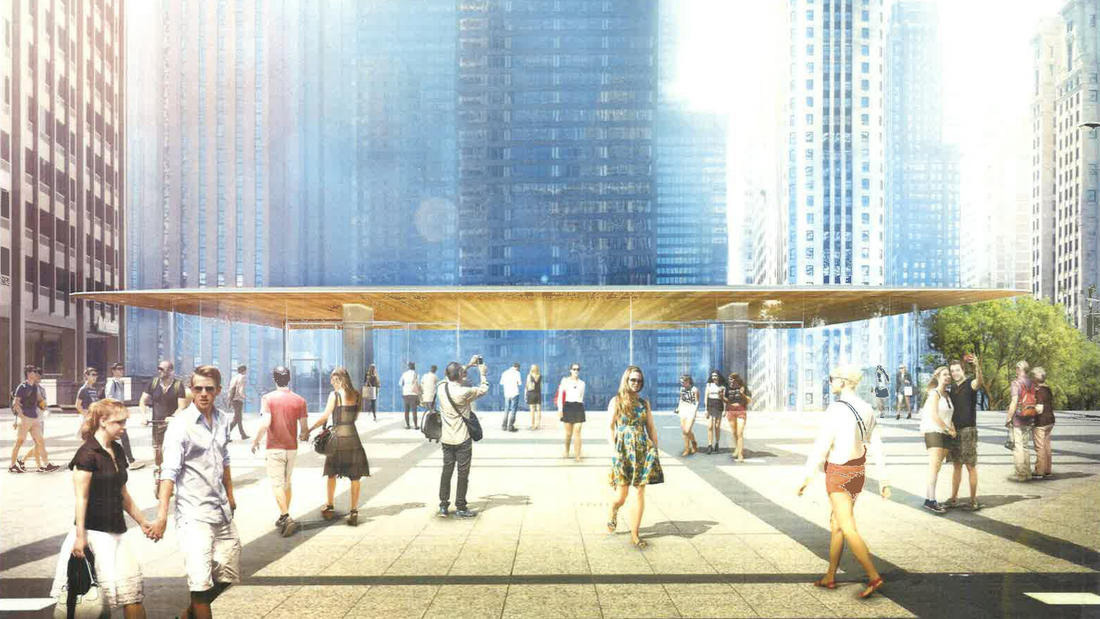 The design is rumored to be the brainchild of award winning architect Norman Foster of Foster + Partners, the same firm commissioned to design Apple's Campus 2 headquarters in Cupertino. Plans incorporate materials familiar to modern Apple builds, including a carbon fiber roof meant to provide natural cooling. Glass is of course featured prominently throughout, providing both structural elements and design flourishes.
According to a draft report, the glass edifice is to take the place of an abandoned food court. The property's current owner, Zeller Realty Group, is set to present a proposal to the Chicago Plan Commission on Thursday, though the gesture is merely a formality as the commission already gave its approval on Monday.